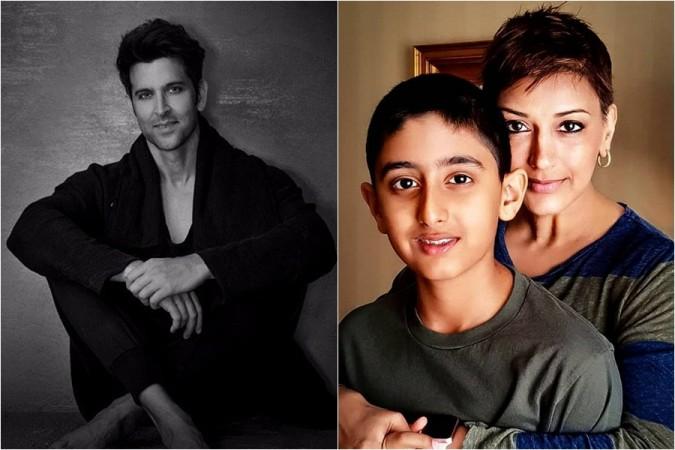 Bollywood actress Sonali Bendre is currently undergoing treatment for her metastatic cancer in New York and is trying to maintain positive outlook towards her illness.
It all happened a few days ago when Sonali had shared an emotional post on Instagram to describe how she and her husband Goldie Behl broke the news of her cancer to their 12-year-old son Ranveer.
Sonali's post had even left Hrithik Roshan wondering how the family had mustered the courage to fight the emotional battle. "He is unique. Don't know who amazes me more, you, him or Goldie," Hrithik Roshan left a comment on Sonali's Instagram post.
Apart from Hrithik, several other Bollywood celebrities including Karan Johar and Ekta Kapoor showered their support for Sonali and called her a source of tremendous inspiration.
On Thursday, Sonali took to Instagram and uploaded a picture with her son and said ever since Ranveer was born, "his happiness and well-being have been the centre of anything" for the couple.
"And so, when the Big C reared its ugly head, our biggest dilemma was what and how we were going to tell him," Sonali wrote.
They wanted to protect him but also wanted to tell him the complete truth. The day Ranveer was told about the cancer, Sonali was left surprised and said, "he took the news so maturely and instantly became my source of strength and positivity for me."
"In some situations now, he even reverses roles and takes on being the parent, reminding me of things I need to do," Sonali added.
"I believe that it's imperative to keep kids involved in a situation like this. They are a lot more resilient than we give them credit for. It's important to spend time with them and include them, rather than make them wait on the side-lines, not being told yet instinctively knowing everything. In our effort to protect them from the pain and realities of life, we might end up doing the opposite," Sonali shared some parenting advice.
Ranveer is currently with his mother in New York for his summer vacation.
"His madness and shenanigans help me switch on the sunshine. And today, we derive strength from each other," added the actress.
Post her diagnosis, the 43-year-old actress is quite active on social media platforms and constantly gives health updates to the fans.
Sonali's positivity in these times of personal strife has been lauded widely on social media, especially after she shared the photograph where she is seen smiling ear-to-ear. The actress even sports a new haircut, denoting that she is battling metastatic cancer with resilience.