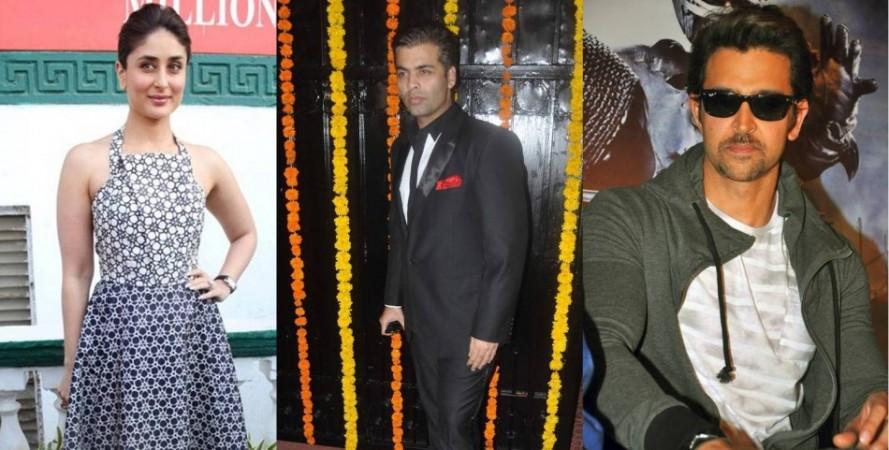 Hrithik Roshan and Kareena Kapoor Khan have walked out of "Shuddhi" but producer Karan Johar maintains they still have a strong relationship.
Karan shares a great equation with the "Jab We Met" actress and has always maintained that Bebo is one of his favourite leading ladies. And the "Kuch Kuch Hota Hai" director shares a good bond with Hrithik as well.
But after Hrithik and Kareena decided to walk out of "Shuddhi", reports surfaced that their relationship with Karan has gone for a toss. The media have been abuzz with the news that best friends Karan and Bebo are not in talking terms.
Also, rumours were doing the rounds that "Highway" actress Alia Bhatt has replaced Kareena as Karan's favourite heroine. [Read the full report here]
However, denying all speculations, Karan clarified that he still shares the same bond with the actors.
"I have a major relationship with Hrithik and Kareena (sic). I've deep amount of respect and love for them, so no film can change the close bond I share with them. We are and will continue to be close friends and nothing can come in the way of that," Karan told Hindustan Times.
"Shuddhi" is one of the most ambitious projects of Karan but due to casting issues the film is still in pre-production stage. The producer has announced the release date but he is yet to make an announcement about the lead cast.
There have been rumours that Deepika Padukone might be signed as the female lead, while three names are being considered for the male lead: Shah Rukh Khan, Ranbir Kapoor and Ranveer Singh. [Read the full report here]
"There's a lot of conjecture about the film, but the final cast will be announced soon. We are definitely releasing the film in December 2015. The rumour mills have gone overboard and are crazy as only Karan Malhotra (director), our team and I know what's happening exactly," Karan told Hindustan Times.