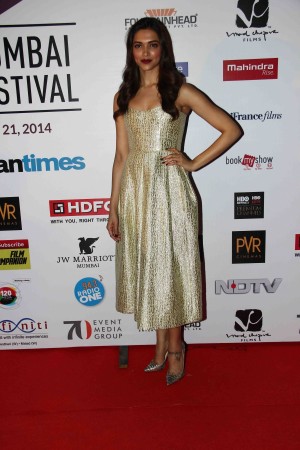 Deepika Padukone has acted with big stars of Bollywood including Ranbir Kapoor and Shah Rukh Khan, and now she desires to share screen space with the Greek god Hrithik Roshan.
While talking to a leading daily, the "Happy New Year" actress said that she wants to work with Hrithik in future.
"Hrithik is someone I really look forward to working with. People say we would look great together on screen," Deepika told DNA.
Deepika has earlier mentioned that she wants to work with Salman Khan, Aamir Khan and Hrithik as she has never worked with them.
But not only Deepika, Hrithik too said that he wants to work with the "Chennai Express" actress. The "Bang Bang" star Hrithik was bowled over by Deepika's performance in "Finding Fanny".
Hrithik was so impressed with Deepika that he even discussed about working in a film, according to BollywoodLife.com.
"Will definitely work with her. I would love to work her, she is a very fine actress and very fine human being," Hrithik said in a press conference.
Currently, both the actors are busy with their respective films, but it would be great to see Deepika and Hrithik as on screen couple.
Meanwhile, Hrithik is not the only actor who wants to work with Deepika. Apparently, Hollywood actor John Travolta expressed his desire to work with the leggy lass of Bollywood.
"I recently saw the Romeo and Juliet one film, 'Ram- Leela'. In that the first musical number was wow. I find Hindi films very original and full of life, it captures your attention unlike any other film and it has a universal theme. I am a big fan of Hindi films. I love the girl in Ram-Leela, (Deepika Padukone) she is a amazing, she I great," the legendary dancer told Press Trust of India during the IIFA Awards.