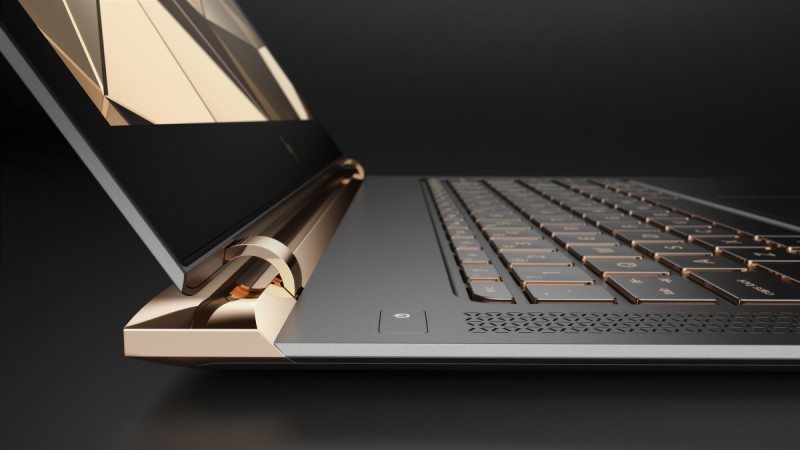 HP has launched an ultrabook it claims is the thinnest in the world. With the intent to take on Apple, the HP Spectre is a slim powerful laptop that's actually cheaper than Apple MacBook.
This 13-inch ultrabook, at 10.4 mm, is currently the thinnest laptop in the world, according to HP, and records aside, the Spectre is being touted as a thing of beauty and luxury — the kind that belongs at home in a secret lair built into the side of a volcano.
The Spectre is made of aluminium and carbon fibre with accents in copper. The 13.3-inch screen has a slab of Corning Gorrila Glass running from one edge to the other and the trackpad is a little sheet of glass too — perfect for opening trap doors and firing lasers at spies.
On the inside, the laptop is powered by Intel's sixth-generation Core i5 or i7 processors, up to 16 GB RAM and single or dual-storage options with up to 2 TB HDD and up to 256 GB PCIe SDD. The sound has been tuned by Bang & Olufsen.
The hinge the notebook features is expected to grab a lot of eyeballs. HP calls it a piston hinge design, inspired by high-end furniture. It claims the laptop's lid, when closed, has a hinge-less appearance. The battery also has been interestingly split in two, and positioned in different parts of the chassis, helping minimise the laptop's profile, and keeping the Spectre apparently running for up to nine hours.
The Spectre also features three USB Type-C ports, two of which are Thunderbolt-enabled. Prices start at $1,170, while the MacBook retails at $1,299.