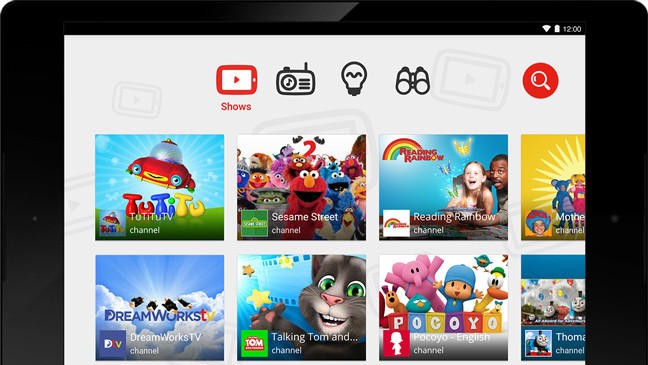 To be perfectly honest, YouTube is nearly one of the top online services ever conceived by man. And while the video player site keeps attracting more and more users every day (especially via its Recommendation panel), it seems like the service has identified its newest target audience as kids.
YouTube, Google's popular online video service, is all set to launch a new app that's been designed specifically for kids on 23 February 2015. The app, called YouTube Kids, will run on smartphones and tablets and will most likely be made free for use, according to a new report by the Wall Street Journal.
Apart from being supported on almost all the leading smartphones and tablets around, the service is expected to feature original episodes of popular television shows for preschoolers, including 'Thomas the Tank Engine' and 'Sesame Street,' apart from streaming content from several kid-safe channels already featured on YouTube, according to a person familiar with the matter.
The YouTube Kids app is said to feature a kid-friendly design, with big, bulging icons and minimal scrolling. In fact, a screenshot of the app released late Thursday night showed the above-mentioned two titles (Thomas the Tank Engine and Sesame Street) as well as 'Reading Rainbow' and 'Mother Goose Club,' among others.
The app is also said to include several parental features as well, such as a timer the parents can use to limit how much video children will be able to watch. The report also claims that YouTube partnered with family advocacy groups and NGOs to have them test the app in advance. However, kids with Apple products might not be so lucky.
The report says that one potential disappointment for parents and kids with the app is that YouTube Kids won't be available for Apple's iPad, for the time being. At launch, the app will be available only for devices running Google's Android mobile operating system.
If the sources on the matter are to be further believed, the company could be planning on announcing the new app this Monday, when YouTube executive Malik Ducard is scheduled to give the keynote address at Kidscreen Summit, a conference for the children's entertainment industry.
Leaving aside all those who are already brimming with scepticism over the new kid video service from Google, the move is a hopeful one since companies like Google doesn't offer their content and services to children aged below 13. Hence, an app specifically designed for kids below 13, where they can watch content that they can connect with, is a welcome move.