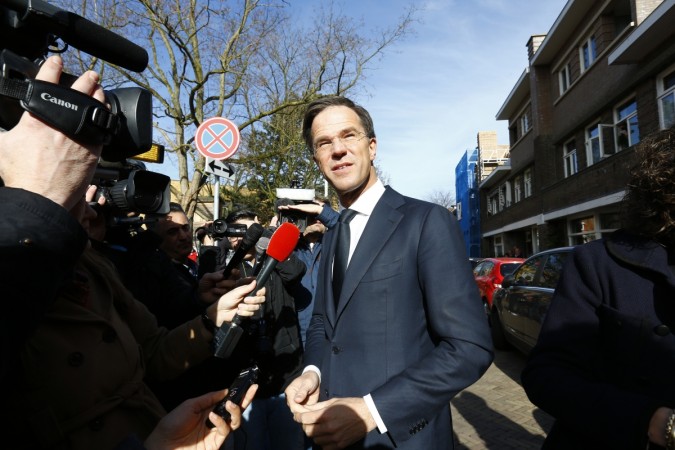 Netherlands Prime Minister Mark Rutte's centre-right People's Party for Freedom and Democracy (VVD) witnessed a significant lead in Dutch elections on Thursday, clinching the challenge against far-right leader Geert Wilders in a huge relief to the European Union governments.
There were strong speculations of Wilder's anti-Islamic Party for Freedom (PVV) winning the Dutch elections, considering the sweeping nationalistic and anti-immigrant wave which resulted in Brexit and Donald Trump's win in the US elections last year. Europe was closely watching the Dutch elections, which was seen as a bellwether for the continent's political future.
The Dutch polls conducted early in the month showed Rutte's VVD and Wilders' PVV going neck and neck in the general elections. However, Rutte has emerged as the clear winner in the battle, and it appears he owes a thank you note to Turkey for his victory.
With almost 95 percent of votes counted, Rutte's VVD Party is projected to win 33 of parliament's 150 seats, ahead of Wilders who is in second place at 20 seats. The Christian Democrat CDA is third with 19 seats, according to ANP Dutch news agency's data.
Although the official results of the elections will be released on March 21, the seat numbers are a good indication of the first three winning parties.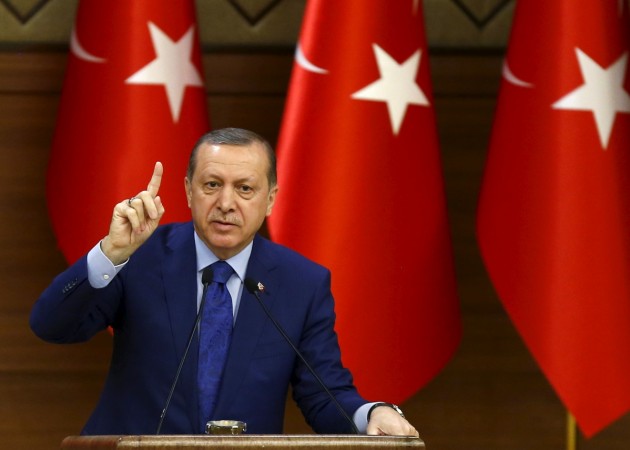 How did Turkey assist in Rutte's win?
The Turkish President Erdogan put Rutte in advantage a few days before the Dutch elections. The Netherlands PM, who was called a weak leader who doesn't take a strong stance on immigration, struck gold with the Turkey-Netherlands diplomatic feud, as he blocked the entry of two major Turkish ministers into the country.
Few days before the general polls, two Turkish ministers attempted to come to Netherlands to campaign for the upcoming Turkish referendum, despite the Dutch government asking them not to. Rutte revoked the Turkish Foreign Minister Mevlut Cavusoglu's flight permit to the country last week, citing his visit would cause law and order issues.
The Netherlands government, consisting of more than one party, backed the Prime Minister's decision saying that there was a risk of Turkish political divisions spilling over into the European country's own Turkish minority, which has both pro- and anti-Erdogan camps.
Following a backlash from Turkey and a threat to impose economic sanction on Netherlands, Rutte stood his ground and later blocked another Turkish minister Fatma Betül Sayan Kaya's entry to Rotterdam. The minister had scheduled a visit to the port city to campaign for Erdogan among the Turkish expatriates residing in the Dutch country.
The move resulted in protests by Dutch Turks who waved Turkish flags outside the consulate in Rotterdam.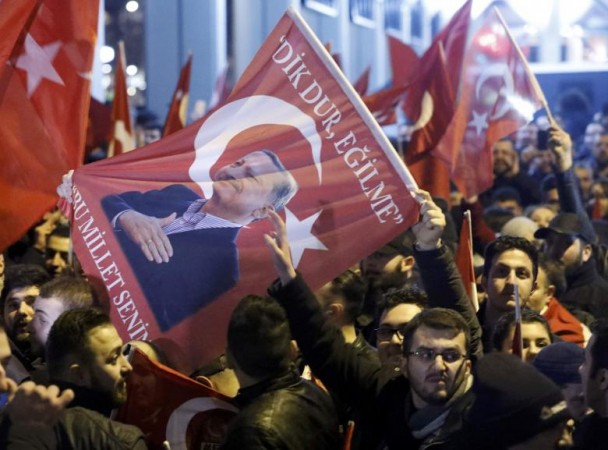 Erdogan's 'Nazi' comments VS Rutte's 'non apologetic' resilience
A furious Erdogan hit back at the Dutch officials for blocking entry of Turkish ministers by saying they were "timid and coward" and branded them as "Nazi remnants and fascists." He also said that the Dutch nation was behaving like a "banana republic."
"Has Europe said anything? No. Why? Because they don't bite each other. The Netherlands are acting like a banana republic," Erdoğan said in a speech in Kocaeli province, near Istanbul.
The Dutch PM retorted to the comments made by Erdogan and said that although he understood Turkey's anger, but Erdogan's "Nazi" and "fascists" remarks were "unacceptable and " way out of line." Although the PM called for talks to resolve the impasse, he responded to Turkish threat of sanctions by saying, "We can never do business under this kind of blackmail...We draw a red line."
'Not apologising, are you nuts?'
Erdogan, during an award ceremony in Istanbul, said that Turkey would take strict actions against Netherlands unless it apologises for its behaviour to which Rutte said although he was ready to "de-escalate" the diplomatic confrontation between the two countries, he was "not apologising."
"This is a man who yesterday made us out for fascists and a country of Nazis. I'm going to de-escalate, but not by offering apologies. Are you nuts?" Rutte told a morning talk show.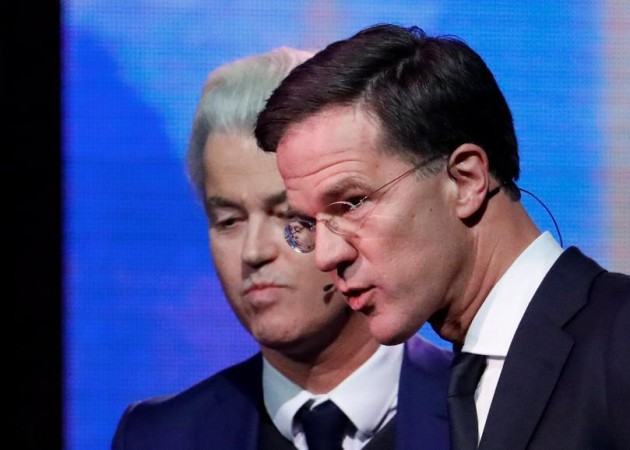 Rutte's emergence as a tough leader in the fracas
PVV's Wilders saw the diplomatic tussle between the nations as a winning point to sell his anti-immigrant agenda stating that Turkish immigrants in Netherlands failed to integrate in the Dutch society.
"All those people that were standing on the square with Turkish flags and showing that they are not Dutch, but Turkish," Wilders said during a debate. He also attacked Rutte for not taking a stricter stance against Turkey and called him a "prime minister for foreigners."
However, Rutte's strong retort in the debate set the way for his election win. The PM said that harsher actions against Turkey would have escalated an already sensitive situation and called out Wilders as irresponsible and not understanding the "the difference between tweeting from the sofa and running a country." The remark won Rutte a round of applause from the viewers.
Stijn van Kessel, a politics lecturer at Loughborough University, who researches populist political parties in Europe, said that the Netherlands PM came across as sufficiently "tough on Turkey by not allowing this minister to speak."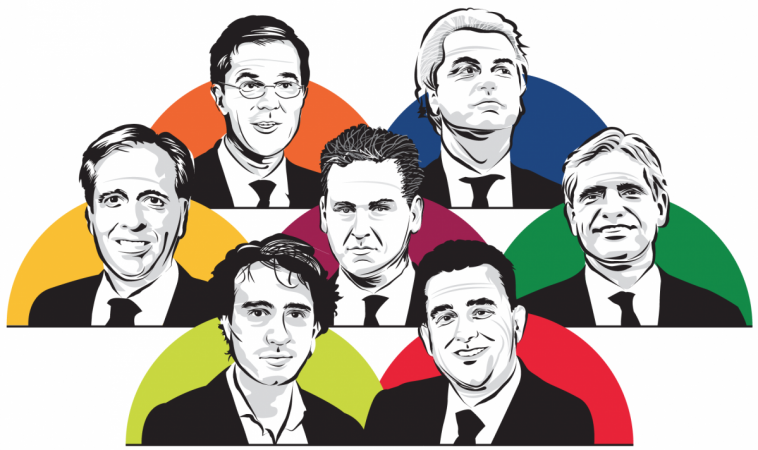 Latest polls showed remarkable hike
A Dutch poll published immediately after the diplomatic feud on Monday set Rutte's VVD party on a clear course to win with 27 seats, which was a three-seat improvement since the row with Turkey erupted last week on Saturday.
Rutte's face-off with the Turkish President sent a strong message of the Netherlands' PM being a resolute leader who did not back down from a fight.
Monday's debate also saw Rutte demanding an apology from Turkey for the "Nazi" remark and stating "If the Turks escalate (the confrontation) then so will we." He also attacked Wilders, whose party also saw an uptick in the number of seats, by slamming him of spreading "the wrong kind of populism" with his "fake policies" and promises of banning Quran and shutting Holland's borders, which were not possible.
Europe welcomes Rutte's win
The Netherlands election results were a big sign of relief for the mainstream parties across Europe, particularly in France and Germany, where the far-right parties are hoping to make a big impact in the upcoming polls.
The Netherlands voter turnout this year was recorded to be the highest in 30 years at 81 percent in an election which was a test of whether the Dutch wanted to end decades of liberalism in the country and embrace an anti-immigrant, nationalist path recently chosen by Britain and America.
The Dutch PM received congratulatory messages from European leaders moments after the votes projections today.
"It is also an evening in which the Netherlands, after Brexit, after the American elections, said 'stop' to the wrong kind of populism," the Netherlands PM Rutte said after his elections win. "It appears that the VVD will be the biggest party in the Netherlands for the third time in a row. Tonight we'll celebrate a little."
The Dutch PM received congratulatory messages from European leaders moments after the votes projections today.
German Chancellor Angela Merkel congratulated Rutte:

"Look forward to working with you as friends, neighbours and Europeans."
French president François Hollande offered his wishes:


"The values of openness, respect for others, and a faith in Europe's future are the only true response to the nationalist impulses and isolationism that are shaking the world,"