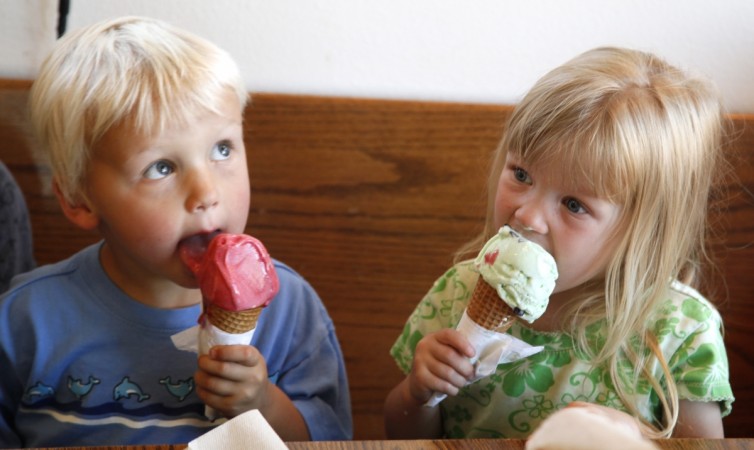 Most of the children worldwide love eating chocolates, ice creams, cakes and biscuits. These snacks contain a large amount of sugar and too much consumption of these snacks can result in several health problems, including obesity.
The latest statistical report of Public Health England (PHE) states that children consume an average of 10 kg sugar in a year through unhealthy snacks and sugary drinks.
The report also states that children between the age group of four to 10 consume 51.2 percent of sugar from pastries, buns and other unhealthy snacks.
"If you wander through a supermarket you see many more things being sold as snacks than ever before. What has changed is kids' lunch boxes are getting full of snacking products. It leads to a lot of calories for lunch," Dr Alison Tedstone, chief nutritionist at PHE, told BBC.
Also read Stop counting calories! Here's why you should keep tabs on carbs instead!
However, every parent knows that it is not really easy to encourage children to eat healthily or reduce their sugar intake. No matter how hard you try to make the children understand the harmful effects of an unhealthy lifestyle, they may not give up on their favourite snacks.
No need to worry. PHE has launched a campaign for encouraging parents to help their children lead a healthy lifestyle. The Change4Life campaign shares six ways to reduce the sugar intake of children.
Check out how you can cut down your child's sugar consumption:
Creative snacks: From Choc cherry popcorn cakes to orange and sultana milk pudding, hundreds of healthy snack recipes are shared on the PHE website for parents.
According to Dr Tedstone, the parents need to be little creative while making snacks for children. Explaining further, the nutritionist said that a visually appealing snack can attract children. So, the parents can use interesting textures, attractive colours and well-liked flavours with a mix of new taste to make snacks.
Healthy drinks: Some of the drinks that children love to consume may contain a large amount of sugar. Even the seemingly healthy drinks, like fruit juices and smoothies, also contain sugar. So, the only option left for the children is plain water. However, many children do not like the taste of it and they may not have it.
The plain water can be made tastier by squeezing an orange or lemon. The parents can also try infusing the water bottles with strawberries or mint.
Healthy family meals: In order to encourage children to lead a healthy lifestyle, it is not just important to restrict them from having unhealthy snacks. The parents should also follow a healthy lifestyle.
Rather than ice creams and other sugary snacks, including fruits and vegetables as desserts after meals. It is also important to prepare healthy family meals and have them with children.
Avoid sugary breakfast: Although half of the sugar consumption of children comes from snacks and drinks, the rest are from the meals they have. So, it is important to think about moderating sugary breakfast.
Stock up healthy snacks: Instead of being happy with a single snack, it will always good to keep the alternatives ready. Dry fruits, like raisins and nuts, lots of plain yogurt and oven roasted vegetable crisps can be some of the healthy options for snacks.
Don't forbid: Past research reports state that children get more attracted to forbidden foods. So, completely restricting them from having unhealthy snacks may have a negative impact on them. Allow them to have one or two bars of chocolates or a few scoops of ice creams once in a while.