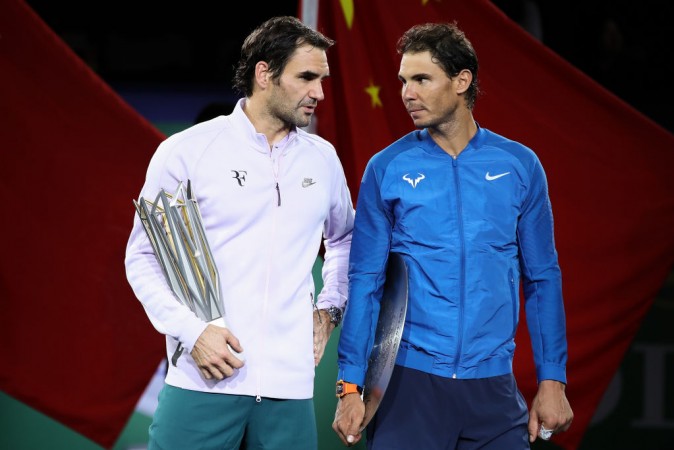 Despite being rivals on court, Roger Federer and Rafael Nadal have shared a good relationship off it. The two men were written off following considerably long title droughts, but they shut down their critics in style with some magical tennis in 2017.
Federer and Nadal, who share 36 Grand Slam titles between them, do not seem to be leaving anything for the chasing pack. The crowd favorites shared four major titles between them in 2017, even as their rivals Novak Djokovic, Andy Murray and Stanislas Wawrinka struggled due to injury issues.
Nadal rose to the top of ATP rankings for the first time in two years in August 2017, weeks ahead of his US Open triumph. The 31-year-old also consolidated the top spot and clinched the coveted year-end world number one-ranking.
Cut to February 2018, and Federer has dethroned Nadal from the top spot, thereby becoming the oldest world number one at 36. And the latter is happy for his arch-rival's achievement and is looking forward to more meetings in future.
"Roger Federer has amply demonstrated what it [legendary status] is and did not need to return to No 1 to prove it. At his age he has achieved something very complicated and we must congratulate him," Nadal told Spanish radio station Carrusel, as quoted by Sunday Express.
"Federer and I do what we can and there will come a day that we won't be able to. In the meantime, welcome, we will give the most and see how long it lasts."
What next for Federer and Nadal
Federer continued from where he had left off last season. The 36-year-old proved age is just a number by successfully defending his Australian Open title in Melbourne.
A third career title in Rotterdam on Sunday, February 18, will only help Federer consolidate his top spot. He will take on world number three Grigor Dimitrov in the final in the ATP 500 tournament.
Meanwhile, Nadal is eyeing a return at the Acapulco ATP 500 tournament, which will be held in the last week of February. He is currently recovering from a leg injury that forced him to retire while he was trailing 2-0 in the fifth set of his Australian Open quarter-final match against eventual finalist Marin Cilic.