In a move that will break the ice that has hardened over two decades, Rashtriya Janata Dal chief Lalu Prasad Yadav and Janata Dal (United) leader Nitish Kumar Yadav have come together in an alliance ahead of the Bihar assembly by-polls, mainly to take on the Bharatiya Janata Party.
Kumar had broken away from the Janata Dal, of which Lalu Prasad was the president, to form his own party, the Samata Party in 1993, following which relations had soured between the two ministers, who have also served as the chief ministers of Bihar. Kumar had resigned as the chief minister of Bihar after his party's debacle in the Lok Sabha elections this May.
The two leaders have decided to campaign together for the 10 assembly seats that will go to polls next month, of which six had been won by the BJP in 2010.
"A grand alliance among the JD(U), RJD and Congress has been clinched with the JD(U) and RJD getting four seats each, while the Congress will contest in the remaining two seats", state unit JD(U) president Bashisth Narayan Singh said at a press conference, Press Trust of India reported.
"This alliance is the need of the hour to defeat communal forces. I agree that Nitish and Lalu had differences, but there is a lot in common too, especially the socialist agenda," Singh was quoted saying by PTI. The by-poll will be held on 21 August.
The alliance did not come without its share of mockery from the common enemy – the BJP and its supporters.
"They used to once sit like kings in their homes and distribute ticket. Today they have been reduced to sharing these seats," Chirag Paswan of the LJP (Lok Janshakti Party), which newly joined with BJP, was quoted saying by NDTV.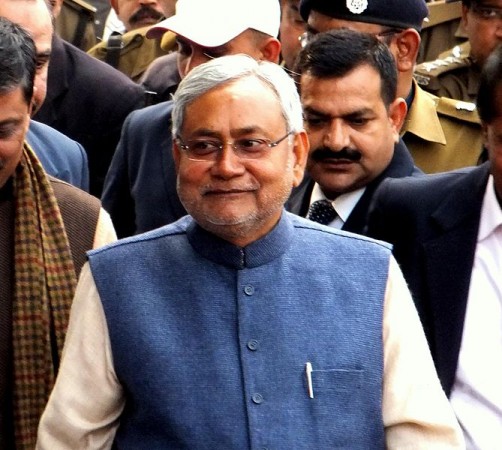 The two leaders had joined hands last month for supporting two candidates fielded by the JD(U) for two seats in the Rajya Sabha, which they eventually won. That decision, too, was aimed at keeping the BJP at bay.
However, their intention on getting back together goes back to 2005, according to former JD(U) MP Shivanand Tiwari, who revealed two weeks ago that the leaders had contemplated getting together to share power in Bihar nine years ago.
"I was part of a serious effort for the reunion of Lalu Prasad Yadav and Nitish Kumar soon after the February 2005 Assembly polls, whose fractured mandate had made no party capable of forming a government. I had suggested to Lalu Yadav that he extend the RJD's support to the JD(U) and install Nitish as chief minister," Tiwari told The Asian Age.
However, Lalu Prasad had later changed his mind, Tiwari said.