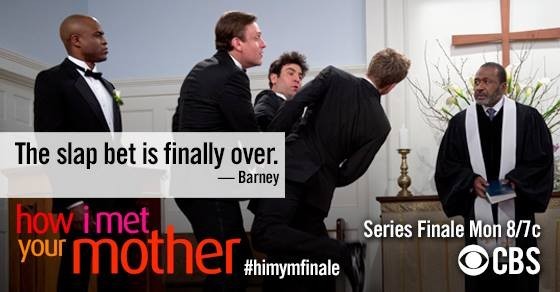 The popular hit comedy series "How I Met Your Mother" (HIMYM) will finally come to an end with the last episode airing on Monday night (31 March) on CBS network.
The season 9 last episode titled "Last Forever Parts One and Two" will be an hour-long episode and it will air at 8 pm in the US.
Viewers will finally get to see what happens in the hit comedy series "HIMYM" in 2030. The show finally will come to end after having a successful run of nine years on television.
The much hyped finale of the series has also raised the TV ratings of the show by 17 percent, according to Los Angeles Times.
The creators, producers, team members and the cast including Barney (Neil Patrick Harris), Ted (Josh Radnor), Marshall (Jason Segel), Lily (Alyson Hannigan) and Robin (Cobie Smulders) have kept mum on the ending.
However, the casts have assured their friends the finale won't be a disappointment.
"After, like, five drinks, I cornered our producers at our Christmas party and said, 'Spill the beans. Tell me how it all ends'. And they did. It's more complicated than you'd assume. Fans won't be disappointed," Harris told US Weekly.
"I think the writers really wrap the show up the way the fans would want it to be wrapped up. They're going to answer all the million questions that everybody has and more," Alyson Hannigan, who plays the role of Lily Aldrin, told Jimmy Kimmel Live.
Where to Watch Live
The show will be aired live on CBS network at 8 pm on Monday night. CBS is also providing the live stream of the show for those who won't be able to watch it on Television. Click here to watch live stream.
Also, one can watch the one-hour long finale episode live via a free live stream.