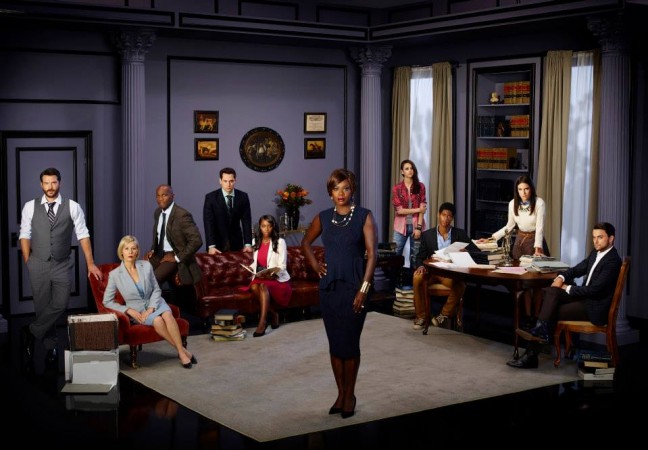 Fans of "How to Get Away with Murder" (HTGAWM) will have to analyse and scrutinise every moment of the major characters in "He Has a Wife" to find out the potential killer in the Professor Sam Keating (Tom Verica) murder case.
Even though viewers may not be right with their guesses, they can at least figure out the key suspects, as Thursday night's episode of the crime drama will have a lot to reveal about the twin murder case of Sam and his student Lila Stangard (Megan West).
Here are six things that viewers must know before "He Has a Wife":
1. Episode 7 Recap: The last episode of "HTGAWM" titled "He Deserved to Die" ended with two twisting plots in the storyline of Sam and Stangard murder case. In the flash forward sequence of the dark and stormy bon fire night, Rebecca Sutter (Katie Findlay) confessed to Wes Gibbins (Alfred Enoch) that she is responsible for the death of Sam. In the meantime, the second autopsy of Stangard's body revealed that she was six weeks pregnant at the time of her death.
2. Shocking Revelations by Lila Stangard in Episode 8: For the first time in the crime drama, the viewers will get to hear from Stangard as she shares some secret about the new affair with Sutter. The new shocking revelation from the dead girl's mouth could turn out to be an important thread in the murder case.
The trailer of the next episode shows Stangard telling Sutter, "I met a new guy. He has a wife." For the audience of "HTGAWM," her words might lead to Sam but since it is a Shondaland drama, the TV world can expect an eye-grabbing twist in the storyline.
3. Rebecca Sutter to Meet Nate Lahey: As per the promotional images released by ABC, Gibbins will see Sutter and Lahey (Billy Brown) together on the horrifying night in "He Has a Wife."
4. Annalise Keating to Cross examine Sam: A sneak peek video of "He Has a Wife" shows Annalise (Viola Davis) cross examining Sam about his relationship with Stangard. Though he tries to convince her that he was not aware of Stangard's pregnancy, Annalise finds it hard to believe.
5. Case of the Week: The upcoming episode of the crime drama will not just concentrate on the mysterious murder cases of Sam and Stangard. Annalise and her associates will have to prove the innocence of their new client, who has been accused of killing her family's nanny while on heavy medication.
6. Episode 9 Spoilers: "It's the evening of the bonfire and we finally see what exactly happened on the night of Sam's death," reads the official synopsis of "HTGAWM" episode 9 titled "Kill Me, Kill Me, Kill Me."