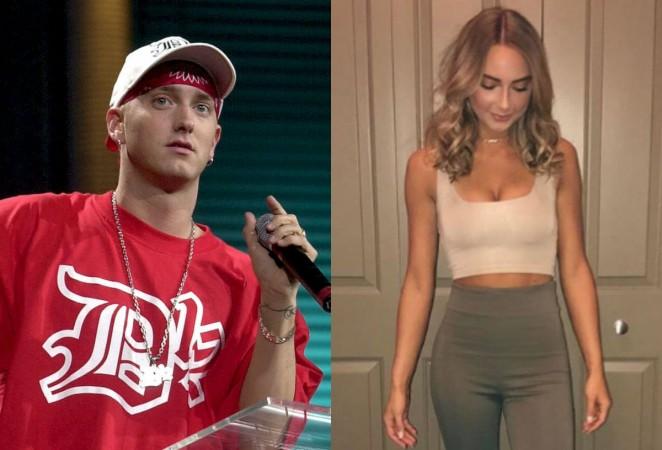 Eminem may hardly be spotted with his daughter Hailie Mathers in front of the cameras. However, the American rapper does spend a lot of time with his 22-year-old daughter, the star kid confirmed. The father-daughter duo share a close bond and sources reveal that the River singer knows about her two-year relationship.
The singer's daughter is said to be dating Evan McClintock, a former fellow student at Michigan State University. While not much is known about when they met and how they began dating, insiders recently revealed Eminem and Hailie's family's reaction to her relationship.
People close to the rapper and the family told Daily Mail that Eminem is not only aware of her relationship but also approves the man she's dating. The publication also wrote that Evan is a fan of Eminem.
"Evan studied economics and is a keen golfer. Hailie's family have welcomed Evan, they are a fantastic young couple who love cosy nights in rather than hard partying," the source revealed.
"[Hailie] enjoys keeping a low profile, walking her dog and going to fitness classes, hanging out with her friends and holidaying with Evan. She had a normal life at university and was in a sorority, she was popular and focused hard on her studies," the insider added.
The rapper's daughter with his ex-wife Kim shunned the media from her private life for the longest time. However, the 22-year-old recently spoke to the UK-based publication disclosing details about her relationship with her father and shed light on her future.
The star kid revealed that Eminem is a supportive father and the father-daughter duo meet often. "We are very close," she told the publication. Apart from her dad, Hailie also spends time with her mother, who comes to meet her often at Hailie's four-bedroomed house in Detroit.
Unlike her father, Hailie is not inclined to becoming a musician. Instead she wants to have a career in the beauty world. "People have been reaching out through [Instagram], as I don't have any [management]," Hailie said speaking about the opportunities she has been offered since she made her Instagram debut.