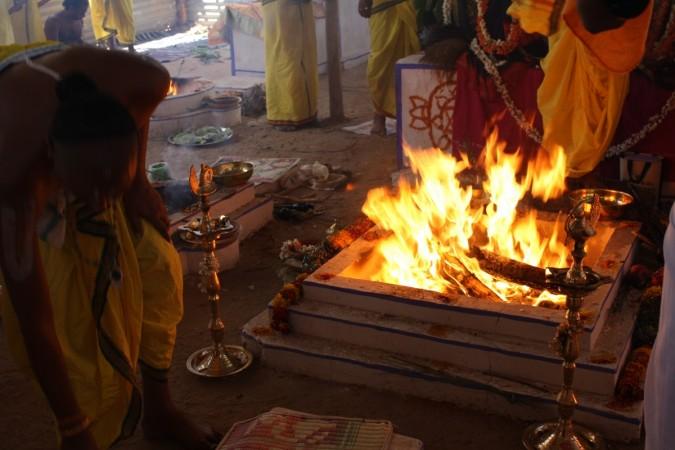 At least 350 priests from Uttar Pradesh's Varanasi city have gathered in Meerut district for a nine-day-long 'mahayagya'. And the reason behind the mahayagya will definitely leave you scratching your head.
A yagya or hawan is a Hindu ritual done in front of a sacred fire, wherein mantras or hymns are chanted and various offerings like ghee, milk, jaggery and flowers are made. A majayagya is a hawan done on an elaborate scale for a longer duration. These rituals are held in order to appease the gods.
The mahayagya in Meerut, which began Sunday, has been organized by the members of Shri Ayutchandi Mahayagya Samiti to reduce pollution. So, to improve the air quality, the priests will burn around 50,000 kgs of mango wood in the next eight days.
But how exactly does burning of such huge quantities of wood reduce pollution? According to Girish Bansal, the vice-president of Shri Ayutchandi Mahayagya Samiti, hawans purify the air around us.
"Our scriptures dictate that a hawan helps purify the air and if we keep doing this, air pollution will reduce considerably. We are doing our bit towards mankind, flora and fauna and the environment," The Indian Express quoted Bansal as saying.
"We planned this in October last year, and read a report by NASA too on the Internet that says the ozone layer above India is the best and we need to preserve it. This mahayagya will help in that," Bansal added.
Bansal also said that apart from 50,000 kg of mango wood, they will also use 12,000 kg of sesame, 6,000 kg of rice, 2,500 kg of jaggery, 51 tins of desi ghee and three trolleys full of cow dung cakes.
In fact, a priest justified that the usage of the offerings is beneficial for the air. "The smoke from the hawan is not harmful because of ingredients used — desi ghee has come from desi cows in Karnal. This is not like the smoke from factories, it's pure. It's also because of the chanting," Om Prakash explained.
Meanwhile, the Uttar Pradesh Pollution Control Board (UPPCB) has said that the ritual will definitely lead to more pollution but has chosen not to intervene the mahayagya.
"Burning such large quantities of wood will definitely cause pollution. But there is no policy under which a probe can be issued in this matter -- so there is little that we can do. It will also be inappropriate for me to comment on the event," RK Tyagi, regional officer of UPPCB, told The Times of India.