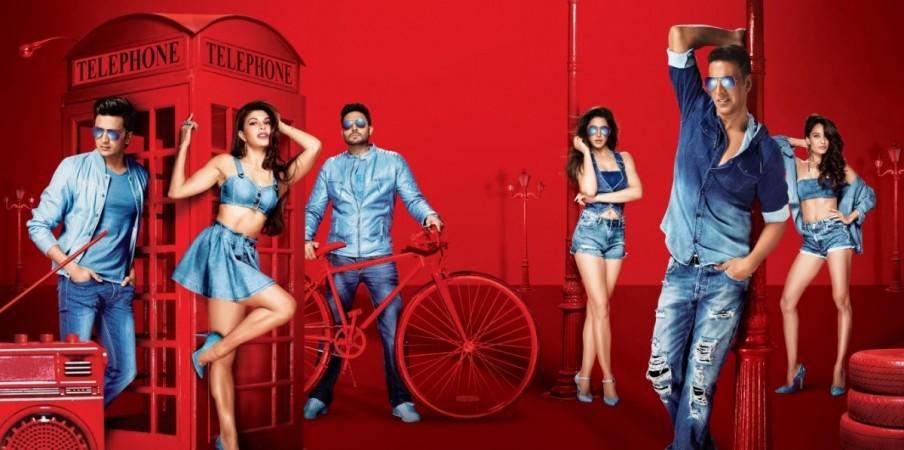 Akshay Kumar-starrer "Housefull 3" has been released in the Gulf region and it has not opened to a positive response from the critics. The comedy drama, starring an ensemble cast, has failed to impress critics.
During the promotion of "Housefull 3" on "The Kapil Sharma Show," Akshay told Kapil Sharma that he is expecting good reviews from critics, as the film is a comedy drama. And as expected, critics have panned the film calling it a mindless comedy drama.
The film is the third instalment in the "Housefull" series. The first two instalments also failed to impress, but it entertained audiences. And likewise "Housefull 3" has also received mixed to negative reviews from critics, but moviegoers, who have watched the film in the Gulf region, have praised the film.
Directed by Sajid-Farhad, "Housefull 3" featured Akshay, Riteish Deshmukh, Jacqueline Fernandez, Abhishek Bachchan, Nargis Fakhri, Lisa Haydon, Boman Irani, Jackie Shroff and Chunky Pandey.
Check out below what critics have said about Akshay, Riteish and Abhishek-starrer "Housefull 3."
Surabhi Redkar of Koimoi.com said: "If no-brainer comedies is your thing, you may enjoy this. This tasteless humor may not put a smile to everyone's faces."
Nandini Ramnath of Scroll.in said: "The filmmakers have aimed to deliver a puerile movie, and, in fact, will be offended by any discussion about Housefull 3 that does not involve its box office prospects."
Shubhra Gupta of the Indian Express said: "The Akshay Kumar film features a bunch of people trying to make fun of the disabled and the coloured."
Sreeju Sudhakaran of BollywoodLife.com said: "There should be a genre called 'leave your brains at home', and if you have done that, you are definitely going to enjoy Housefull 3. The good jokes take their own sweet time to come, but once they arrive, there is no stopping them."
Kriti Tulsiani of News18 said: "Literal translations of common phrases including 'no kidding', 'grow up' are not making anyone laugh (at all). #Housefull3 Hah, the narratives oscillate between literal translations of phrases to common WhatsApp messages. #Housefull3"
Hindustan Times reviewer said: "There is no story to look forward to in the film, so the audiences are more interested in the comic drama and how it unfolds."
Sarita A Tanwar of DNA said: "Housefull 3 is mad, irreverent and funny. And it has Akshay Kumar's outstanding return to comedy in one of his finest performances. Go for it."
Movie critic and trade analyst Taran Adarsh tweeted: Entertainment is the lifeline of #Housefull series. Sajid-Farhad ensure #HF3 stays faithful to genre. Laughs, gags, punches - it's a riot... Comedy is serious business and #Housefull3 lives up to the humongous hype + enormous expectations attached to the franchise... #HF3
Manjusha Radhakrishnan of Gulf News said: "While the first half has some laugh-out loud moments, the second half meanders. But the climax, which has some golden moments, wrap things up nicely.
"As long as you don't look for sense in this one, you are safe."
Lokesh Dharmani of Masala.com said: "A story in films like these is a myth. It is sheer buffoonery that gets worse with every second, with every joke shamelessly copied from WhatsApp. Watching these films is like being added to those inane WhatsApp groups again and again that you have left multiple times."
Sneha May Francis of Emirates 24/7 said: "The writing is also mediocre, with the director duo, penning dialogues that playoff literal translations of famous English sayings. "We are not making kids, one girl says in Hindi, and later explains, "I meant, we are not kidding."
"It's a miracle, we walked out, unharmed."