Phones have become such a crucial part of our daily lives, handling our communications, entertainment, work, banking and much more. As consumers' demands grow, OEMs aren't resting to deliver. Honor is one such brand that has time and again brought affordable premium smartphones, but today we are looking at the Honor 9N.
The newly-released Honor 9N is a response to the growing popularity of sub-Rs 20,000 smartphones – an area where brands like Xiaomi, Nokia, Motorola and even Asus are battling for dominance. So how does Honor 9N fair against the best industry has to offer? Let's find out.
We had the chance to test out the Honor 9N at the launch event last month and we were thoroughly impressed by the looks. After having used the phone for almost a month now, we are here with our final verdict on how this budget smartphone justifies in a fiercely competitive market.
Before we get started, Honor 9N comes in two variants – 3GB+32GB and 4GB+64GB – priced at 11,999 and Rs 13,999, respectively. The handset is available exclusively on Flipkart and it is one of the popular phones out there.
We've already talked about the design in our first impressions, but we'd like to add that Honor 9N is one of the handiest smartphones we've used recently. The 5.84-inch display with 19:9 aspect ratio, slim bezels and glass back is an epitome of beauty. Even though we reviewed the blue colour variant, the Robin Egg Blue did a spell on us. But all colours in the Honor 9N are refreshing – something we rarely see these days in budget smartphones.
Honor 9N is certainly a head-turner, if not a show-stopper, and lets you make a fashion statement. It compliments your fashionable image and strikes a youth appeal at its best.
The display on the Honor 9N is one of the strongest USPs, not because of the resolution but for its notch. Yes, the infamous notch makes a great sales pitch here as no other phone in its price range will give you a notched display packed in an elegant design unibody. As for the resolution, we had no trouble viewing the screen even under bright sunlight or strain in dim lighting – thank to the adaptive brightness. Overall, Honor 9N gets a thumbs up for design and display – something we expected from Honor.
As impressive as the design is, Honor 9N is more than just beautiful craftsmanship.
Cameras on the Honor 9N had a surprising appeal. The 13MP+2MP dual camera setup at the back delivered some decent results. In well-lit areas, Honor 9N performed impressively, be in landscape or portrait. We were able to get great details in low-light by keeping the camera stable while shooting.
Overall, Honor 9N was able to do a decent job at getting true colours and the night mode in the camera app pumped up the images to capture what would otherwise be impossible. We had some complaints with the dynamic range in bright areas. At times we felt including AI in the camera contribute largely towards making the Honor 9N a better camera phone.
Selfies were quite balanced in well-lit and average-lit areas while focusing remained a big pain point in low lights. Again, this wasn't something we could not fix with stable hands. Different modes such as Pro Mode, AR Lens, Light Painting and HDR among others are just add-ons we were pleased to see in a budget phone such as the Honor 9N.
Check out some of the camera samples shot using Honor 9N below:
Compared to Honor 9N design, the camera is not as great so it might be best to go for other options for the purpose of getting a better camera.
Next up we focused on was performance. Honor decided to use the aging Kirin 659 chipset in the 9N, towards which we had our doubts. But after using it as a primary device for daily operations, including calls, emails, social networking, video streaming, music and more, the Kirin 659 paired with 4GB RAM didn't seem bad at all. All our daily operations were carried out efficiently and did not face any glitches.
But things changed when we turned to some graphics-intense games. We noticed a significant drop in frames in games such as Asphalt, but surprisingly there was no thermal issue. If you're more of a Pet Rescue player, Honor 9N isn't the one to disappoint.
But the downside of gaming performance should let users down. There are several other areas where Honor 9N excelled. For instance, EMUI 8.0 is heavily customizable and serves without any lags.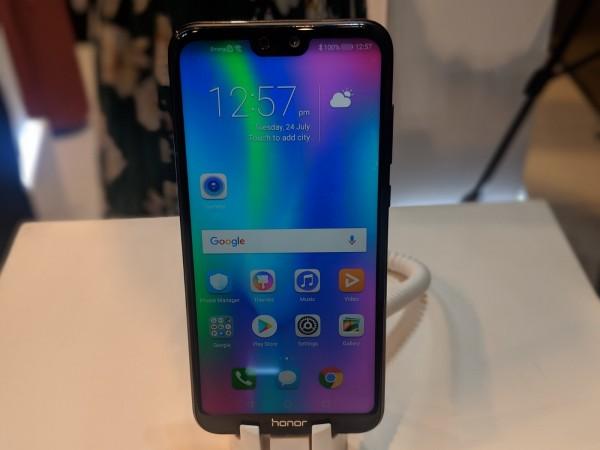 Sad to note, we found several third-party apps pre-loaded in the phone (some would call it bloatware), including six games, Netflix, HiCare, Truecaller, Messenger, Honor Club, Honor app, and Phone manager. Since we were using the 64GB variant, there was no need to keep a tab on storage, but the apps would take up sizable space on the 32GB variant. While system apps cannot be uninstalled, third-party apps can be removed to save storage.
On the plus side, Honor 9N had good battery life and the downside was the charging time. It took nearly two hours to fully charge the phone, but the 3,000mAh battery lasted us a full day with mixed usage without gaming or extreme video streaming. On a busy day, we got through a full working day without an issue and on a lazy day, it would last 7 hours and up with a lot of gaming and video streaming mostly on Netflix.
Honor 9N also offers the best-in-class fingerprint sensor and face unlock. It a matter of seconds, the phone would unlock with a touch, but if you're feeling lazy to reach out to the fingerprint sensor then the face unlock would do a great job and unlock the phone in seconds, even in dim lit areas.
Verdict
Honor 9N is easily your go-to phone in 2018 as it checks all the necessary boxes for a youth-friendly phone. Great looks, notch display, lasting battery and lag-free user experience packed inside Honor 9N makes it a budget-friendly premium phone. The camera department could use some improvement, but if you know your Pro Mode settings then nothing can stop you from capturing those Instagram-worthy shots.
Honor 9N is on the same league as Asus Zenfone Max Pro M1, but the performance on the latter gives it a lead. The rest of the game is equally balanced between the two rivals, but the notch is Honor 9N's crown.