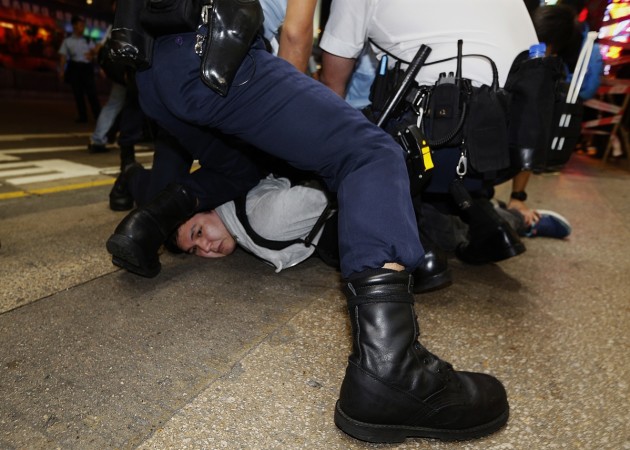 Seven Hong Kong police officers were arrested on Wednesday over charges of beating a pro-democracy protester last month. The move, however, may not appease the angry mob especially since the cops picked up student leaders and several others while clearing Mong Kok.
A video showing social worker Ken Tsang being beaten up by several police officers on 15 October had sparked outrage on social media and had added to the mounting anger among the protesters.
Seven officers involved in the incident have been charged with 'assault occasioning actual bodily harm', as per a police statement.
"Police reiterate that if any force member commits illegal acts, the police will handle this seriously and investigation will be conducted in a fair and impartial manner," the statement released on Wednesday said, adding that "such acts show a lack of civic-mindedness and selfishness and will affect police's normal service to the public".
The arrest of police officers came on the day when Hong Kong police arrested at least 86 protesters, including student leaders, and cleared the Mong Kok streets of tents and barricades after 60 days of 'occupation'.
Student leader Joshua Wong was hauled away by the police on Wednesday on the 60th day since demonstrators started the 'Occupy' protests. Wong has now been banned from a large area in Mong Kok as a condition of bail on Thursday, Reuters reported.
Thousands of residents have been protesting for fairer, democratic elections, after the Chinese government made a decision in August that all candidates for the 2017 elections should be approved by a special committee, which protestors claim comprises only pro-Beijing members.