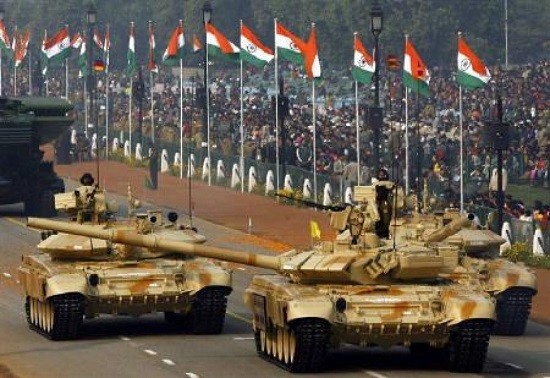 India will soon produce its first tactical weapons guidance device under licence from the US Honeywell.
The device, TALIN 2000 (or Tactical Advanced Land Inertial Navigator), can guide a weapon to hit a designated target with near-zero error, ensuring its precision destruction with minimal collateral damage.
The device can be installed for one-time use on bombs, missiles and rockets and gets destroyed in the explosive impact after leading the weapon to its target.
The chip, latest in its generation, can also be used on vehicles or person as it is small and wearable, company sources told India Strategic defence magazine.
Honeywell has signed an agreement with Tata Power SED to produce this sophisticated device, after clearance from the US government, and install it on systems like the Pinaka Multi Barrel Rocket Launcher (MBRL) and the Akash surface to air missiles, the two weapon systems the Tata Group is producing under licence from DRDO.
As of now, Tata Power will install the device on both these systems but its use can be multiplied as desired.
The agreement was signed Sep 29 on the sidelines of Prime Minister Narendra Modi's visit to Washington.
TALIN works without GPS and does not depend on any wireless signals. Its induction is expected to help increase troop safety and maximize mission success.
"TALIN represents the latest in GPS-free navigation and positioning technology, designed to improve asset safety and ultimately mission success," according to Arijit Ghosh, president of Honeywell Aerospace, India.
"By partnering with Tata Power SED on the production of TALIN, we are aligning with the government's aim of increasing locally manufactured technologies for India's defense industry and giving the Indian armed forces an easy-to-justify option for navigation on the 21st century battlefield," he said.
The value of precision weapons, or smart bombs, is great as precision means fewer shots and precise shooting of a designated target, which can either be a building, vehicle or a terrorist.
The Honeywell device can also be installed on artillery shells or many dumb bombs.
Says Honeywell: "TALIN is a highly accurate, shock-stabilized position and pointing inertial navigation system designed for use on a wide range of military and commercial platforms.
"It provides users with extremely precise attitude and position awareness with or without the use of GPS... TALIN is ideal for environments where GPS signals are unavailable.
"More than 15,000 systems from the TALIN family are currently operating on more than 60 military and commercial platforms worldwide."
India had been buying a similar device earlier from French weapons technology company Sagem.
Honeywell has been authorized by the US government to share this technology for manufacture in India but for use only by the Indian armed forces.
India is the second country after Germany to get this patented technology from the US.
DRDO head Avinash Chander has said that while DRDO had brought down the import content for Indian armed forces from some 70 percent to 50-55 percent in recent years, critical guidance and seeker technologies and sensors were still required from outside India.
The Pinaka Mk II has a range of 65 km, compared to 40 of Mk I, which had an error probability of one meter with the help of GPS.
But GPS signals can be distorted by the operator or jammed by an enemy.
Talin 2000 has an error probability of only a few inches, has its own mind, is low cost and high technology, and also one of the best possible battlefield navigation systems.
Said Rahul Chaudhry, CEO, Tata Power Strategic Engineering Division: "We are proud to have completed this technology sharing arrangement, which will offer the Indian armed forces a state-of-the-art inertial navigation technology, made in India and with local product support."
Honeywell will license the design, hardware and expertise to assemble, test and, in the future, build the production kits for TALIN to Tata Power SED.
The agreement will be extended to cover Honeywell's TALIN 3000, 4000 and 5000 products, which offer varying capabilities to suit a wide range of operational requirements.