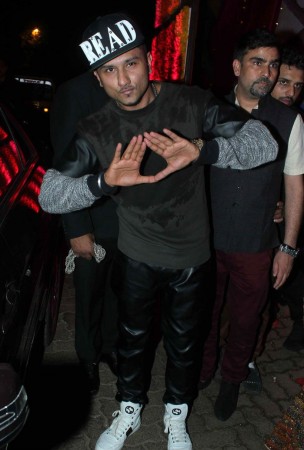 Rapper Yo Yo Honey Singh has landed himself in controversy again. After facing legal problems over offensive lyrics, the rapper is now accused of lifting tunes for Salman Khan's upcoming film "Kick."
Singh recently composed a song titled "Devil-Yaar Naa Miley" for the film "Kick." The song, which features Khan and Nargis Fakhri, was released on 13 July.
But soon after its release, it landed into a plagiarism row. Deccan Chronicle in their report stated that the tunes of the special song by Singh is quite similar to Flo Rida's song "Low."
Singh is not the only music producer to have gotten caught in the whirlwind of plagiarism controversy. From R.D. Burman to Pritam, several other music composers were accused of lifting tunes or getting influenced by songs of other countries.
Last year, music director Pritam Chakraborty landed into problems when people accused him of copying "Ranjana Ami Ar Ashbona," the title track of a national award-winning Bengali film.
Anjan Dutt, director of the film later said that the original should have been attributed properly.
"I don't want to accuse Pritam of anything because I have not compared the two tracks. But I must also add that copying tracks without proper attribution is unethical and rampant. As an artiste and musician, I feel this is no less than the crime of piracy," Dutt told The Times of India.
Chakraborty has previously been accused of lifting tunes from songs of other countries as well.
Here are few songs that are said to be copied:
1. "Kya Mujhe Pyaar Hai" from "Woh Lamhe": Copied from Peterpan's "Tak Bisakah"
2. "Yeh Ishq Hai" from "Jab We Met": Partly copied from Anggun's "In Your Mind"
3. "Dil Samandar" from "Garam Masala": Copied from Tarkan's "Kuzu Kuzu"
4. "Dhoom Machale" from "Dhoom": Partly copied from Jesse Cook's "Mario takes a walk"
5. "Aao Milo Chalo" from "Jab We Met": Copied from Peterpan's "Di Belakangku"
Meanwhile, check out "Kick" film's "Devil" song and Flo Rida's "Low" in the videos below: