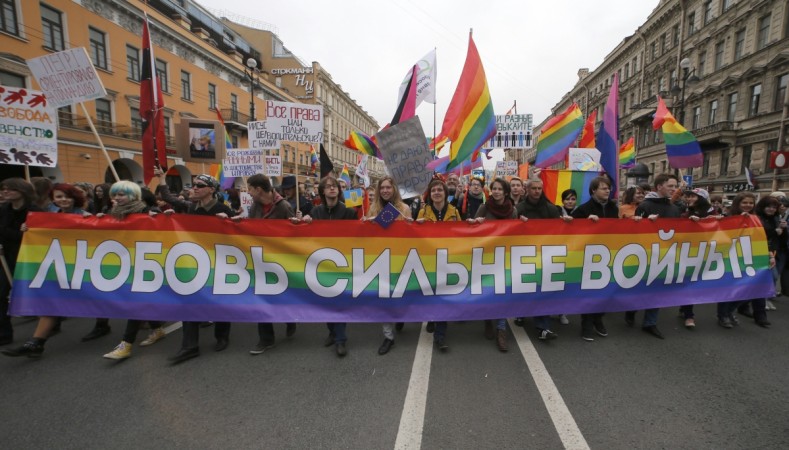 Russia's Constitutional Court on Thursday upheld a law that bans the promotion of 'gay propaganda', dismissing the appeal made by three LGBT activists that the law was in contravention to the country's constitution.
"The contested provisions (of the Russian legislation) are not intended to ban homosexuality as it is and cannot be viewed as curbing the rights of citizens based on their sexual orientation," the Moscow Times quoted the court as saying, citing agencies.
Moscow's stance towards homosexuality has been a bone of contention for many years with many westerners considering Moscow's attitude as homophobic and damaging. The law, which prohibited promoting homosexuality in anyway, came into force last June. The law had been called into question by three LGBT activists who were found guilty of "promoting non-traditional relations" to minors, according to the court.
The court also argued against the case that the gay propaganda law violates the right to freedom of speech guaranteed under the Russian Constitution and discriminates against homosexuals. The court dismissed such an argument saying the ban was not intended to discriminate against gay people.
This comes as western critics of the law have pointed out that it has given rise to attacks on the LGBT community with many people arguing that it simply fosters anti-homosexual attitudes and discrimination.
The law states that anyone providing information about homosexuality to minors can be fined from anywhere between 4,000 rubles for individuals ($104) to 1 million rubles ($26,000) for organization, the Russian newspaper noted.
Thursday's ruling comes a year after another court in Russia also established that the law was not in breach of the constitution and that it did not infringe into the freedom of the citizens.
There is a general consensus among westerners that the LGBT people in Russia face legal and social challenges and discrimination that are normally not experienced by non-LGBT people. Although same-sex sexual activity between two consenting adults in private was decriminalized in 1993, same-sex couples don't enjoy the same rights enjoyed by opposite sex couples in Russia.
There are also no laws prohibiting discrimination on the basis of sexual orientation or gender identity and expression.