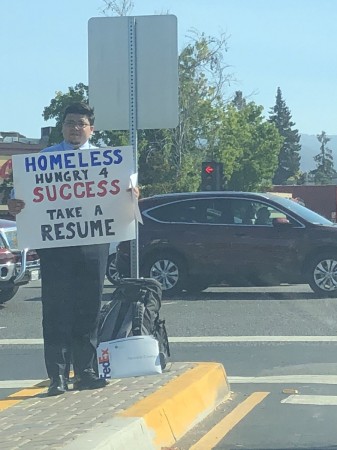 The Silicon Valley in California is home to millions of engineers and techies, but as Twitter pointed out on Saturday, it can be a double-edged sword. David Casarez's plight is the latest case of how the Bay area can both connect, as well as be a dangerous area to live in.
David was spotted first on Friday by Jasmine Scofield. Homeless and jobless, he was left standing, literally, on the sidewalk in Mountain View. Like most homeless people, he too had a board up asking for help, but unlike most, he did not want money, food or shelter. Rather he simply asked for a job.
Scofield encountered David on the corner of El Camino and San Antonio in Mountain View with a board that read "Homeless Hungry 4 Success Take A Resume." She quickly snapped an image of his resume, and Twitter did the rest.
Within hours, David's story went viral all over the Bay area, and thousands of people in the community stood up to help the web developer find a job, using the hashtag #GetDavidAJob
A graduate of Texas A&M University, David has a degree in Management Information Systems and worked with General Motors from 2014 to 2017. Since being fired, he has been sleeping in parks and submitting multiple applications for freelance work.
David had no idea that he had become a Twitter celebrity, and was informed of his viral story by a college friend. In the end, it seems like Twitter's support did have a happy ending as Scofield shared an update on Sunday.
"Google, Netflix, LinkedIn, and many other companies have already reached out," Jasmine posted Saturday morning. So from no job, David now seems to have too many to chose from.
Thank you for posting. I've almost been homeless a couple of times (not an exaggeration). Having no money for food and no place to rest really sucks--it's so awful. My heart seriously goes out to this guy.

— Justin Leo Kennedy (@laptop_unlearn) July 28, 2018