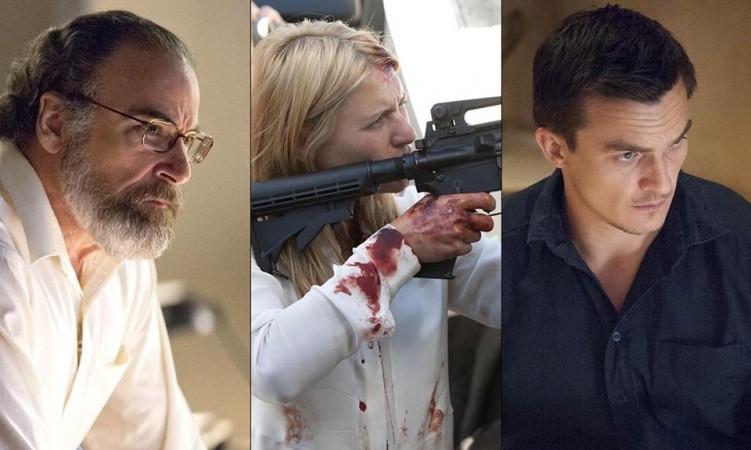 When "Homeland" returns on Showtime with season 5, it will revolve around the twist and turns in Carrie Mathison's (Claire Danes) life. Additionally, it could also focus on how Peter Quinn (Rupert Friend) and Saul Berenson (Mandy Patinkin) maintain their relationships with her.
The upcoming sequel will begin by showing the lead characters in three different countries working on individual projects. While the former CIA case officer will be busy with her new job in a private security firm in Berlin called Düring Foundation, her mentor will be working with the CIA agents and her former colleague is likely to be in Syria.
Meanwhile, it will also introduce few new characters, including German actor Sebastian Koch as Mathison's boss and a well known philanthropist in Germany named Otto During, actor Alexander Fehling as the protagonist's new boyfriend and a legal counsel for the Düring Foundation, actress Sarah Sokolovic as an American journalist who works for the firm as well as Miranda Otto as Berlin's chief of station Allison Carr, according to the Deadline.
The official synopsis of season 5 states that the sequel will pick up two years after Mathison's ill-fated tenure as Islamabad station chief. Struggling to reconcile her guilt and disillusionment with years of working on the front lines in the 'war on terror,' Danes' character finds herself in a self-imposed exile in Berlin, estranged from the CIA and working for a private security firm.
Since the description does not have any deals about Berenson and Quinn, "Homeland" fans are curious to know how the plot line will link the three lead characters with each other.
Although several speculations suggested that Mathison could be working as a secret agent in her new firm and could team up with CIA agents, executive producer Alex Gansa denied it. "As we open the season, Saul is back in the CIA and Carrie is out of it. So that's going to create, by definition, a distance between them," TV Line quoted him.
In the meantime, the followers of Showtime's political thriller will have to wait a little longer to know whether Danes' character will share screen space with Quinn or not as Gansa did not reveal any details about it.
"How much of the connection between Carrie and Quinn... is actually romantic [versus] operational. How much is just that they recognise each other so well? How much is the desire for both of them to move on past this job that they do. Those are the questions that we're wrestling with. We wrestled with them last season. We're wrestling with them again," he said.