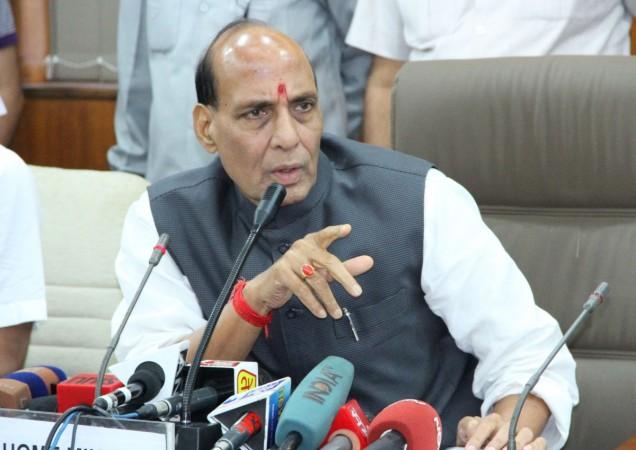 Union Home Minister Rajnath Singh, who is on a two-day visit to Kashmir, said that the decision to extend the Ramadan ceasefire will be taken after reviewing the situation in the state.
Grenade attacks have become the major concern for the security establishment from the past three weeks in Kashmir. The attacks have created fear among local residents and have brought back memories of violence that took place in the early 90s, when insurgency began in the valley.
Media reports suggest that at least 50 people were injured in total of 15 grenade attacks. These attacks took place in three weeks' time since Indian government announced the unilateral ceasefire in Kashmir on May 16 in wake of Holy month of Ramadan.
The ceasefire was announced after Kashmir saw increase in civilian killings and anti-militancy operations from past three years.
"The Centre asks Security Forces not to launch operations in Jammu & Kashmir during the holy month of Ramzan. Decision taken to help the peace-loving Muslims observe Ramzan in a peaceful environment. HM Shri @rajnathsingh has informed the Chief Minister, J&K of Centre's decision," the HMO Twitter handle had tweeted.
Chief Minister, Mehbooba Mufti, welcomed the announcement by the central government of suspension of anti-militancy operations for the holy month of Ramadan. However with the increase of militant attacks in this period on security forces and police patrols prompted Mufti to tweet, "Even as we see the ceasefire bringing great relief to the people of J&K, militants seem to be continuing their violent activities and are desperately trying to sabotage the process. I only hope that they realise the futility of their actions soon".
Media reports suggest that Singh's visit to Kashmir may bring the prolonged relief to the Kashmiris by extension of Ramadan ceasefire till Amarnath Yatra. The annual Hindu pilgrimage to the lap of Himalayas will commence from July 28 this year. Lakhs of devotees from across the India visit the Amarnath every year. On the one side when there are speculations of extension of ceasefire, south Kashmir continues to remain tense. Most of the devotee travelling by road have to pass the south Kashmir where there is increasing militant activities with each passing day. It is pertinent to note that Amarnath Yatra was attacked last year killing eight pilgrims and injuring many. For now people in valley and establishment can only hope for the better times ahead of Eid.