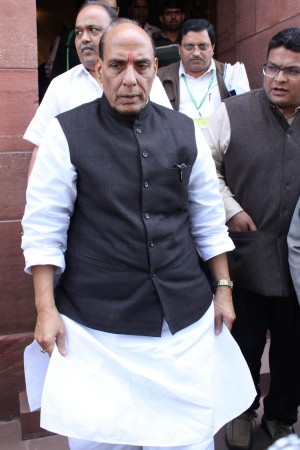 Union Home Minister, Rajnath Singh is likely to visit the Kashmir valley soon to take stock of the situation there.
The home minister said in the Lok Sabha that the government would reconsider its decision of using pellet guns as non-lethal weapons for crowd control.
Singh informed the lower house that the use of pullet guns has resulted in the loss of one life and caused 53 eye-injuries in Kashmir since 2010.
"We will form an expert committee on this that will give its report in two months, so that such incidents are not repeated in future," the home minister said.
Various international human rights bodies such as Amnesty International, Human Rights watch have criticised the Indian government for the use of pellet guns as a weapon of crowd control.
A tense Kashmir meanwhile is simmering under curfew for last 14 days. Mobile phone and internet services continue to remain suspended. Over 45 people have been killed in the clashes between the protestors and security forces after the Hizbul Mujahideen commander, Burhan Wani was killed in an encounter in South Kashmir on July 8.
J&K Chief Minister Mehbooba Mufti called an all- party meeting in Srinagar on Thursday where she made an emotional appeal to all the political leaders and MLAs of the state to rise above their political differences and help bring normalcy in the valley.
The meeting was however boycotted by the Omar Abdullah-led National Conference party.