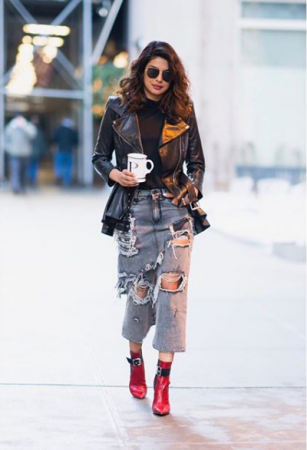 Priyanka Chopra sure knows how to slay it in basic clothes, which in real are nowhere basic and yet fashionable. Her recent picture on Instagram got us intrigued about the price of those three simple things she wore - a leather jacket, ripped jeans with a skirt and red boots.
Well, they are not the regular ones and we don't expect Priyanka to wear anything regular but the price of her latest outfit will blow your mind! These three things set her back by around Rs. 4 lakh. Don't believe us? Here's the break down:
While attending a luncheon with her Quantico co-actors, Priyanka wore a R13 denim ripped jeans with a mini skirt which costs something around Rs. 30,000 - Rs. 50,000
She teamed it up with a black turtleneck sweater and a matching leather biker jacket from Alexander McQueen Peplum that costs Rs. 3,35,497 (Click here for more information).
And then she added the Rag & Bone's plum red crocodile buckled pattern ankle length boots that cost around Rs. 44,500 (Click here for more information).
So, what do you think? Do you want to buy that sexy winter outfit?
On the professional front, Priyanka recently announced the premiere date of the show on her Instagram account, and it is April 26, 2018. She captioned the picture as: "And She's back... Can't wait to share this with you! #April26 #QuanticoSeason3" [sic.]