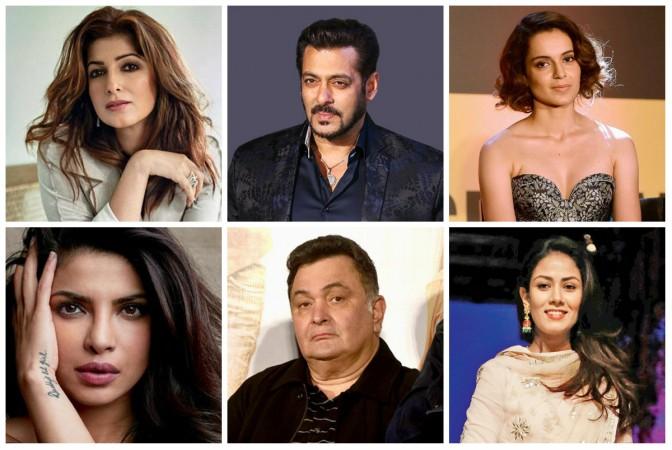 The year 2017 was controversial for Bollywood. Here are some statements by celebrities that were shocking for everyone. While some were handled, a few still have debates raging on...
Kangana Ranaut's infamous war with Karan Johar and Hrithik Roshan this year shook Bollywood. She called Karan "the flag-bearer of nepotism", post which, Karan said she was playing the woman card by portraying herself as the victim. She later told Mumbai Mirror the industry was not a small studio given to Karan by his father, and that KJo was "nobody" to tell her to leave it while explaining the meaning of "victim card" and "woman card."
Actor and Member of Parliament (MP) Kirron Kher said at a press conference that a girl who was gang-raped in Chandigarh should not have got into an autorickshaw in which three men were already seated. She was widely trolled on social media for her remark.
Wanted star Prakash Raj made a statement after the murder of journalist Gauri Lankesh. Speaking about it at an event, he said: "I am a renowned actor. Do you (Prime Minister Narendra Modi) think I will not be able to notice when you are acting? At least show me some respect. Considering the fact that I am an actor, I will be able to tell what the truth is and what is acting."
Rishi Kapoor's humourous and sarcastic tweets cannot be summarised in a few words. His comments on "legacy" or "cricket" or a few interesting birthday wishes or his outburst against Anurag Kashyap and Anurag Basu — everything became news.
Singer Sonu Nigam's famous tweet that led him to go bald became a national headline. He wrote, "God bless everyone. I'm not a Muslim and I have to be woken up by the Azaan in the morning. When will this forced religiousness end in India."
Shahid Kapoor's non-celebrity wife found herself under fire when at an event she said: "I wouldn't want to spend one hour a day with my child and rush off to work. Why did I have her (Misha)? She is not a puppy, you know. I want to be there for her as a mother."
Priyanka Chopra spoke about Sikkim in an interview to ET Canada at the Toronto International Film Festival (TIFF) on September 7. She was talking about the film Pahuna, which premiered at the gala. "This is a Sikkimese film. Sikkim is a small state in the Northeast of India which never had a film industry or anyone who made films from there. And this is the first film ever that's come out of that region because it's very troubled with insurgency and troubling situations," Priyanka said in the interview.
Twinkle Khanna always manages to grab headlines as she gives her honest opinion about religion, politics, and feminism or for that matter the Mallika Dua controversy involving her husband.
While promoting Tiger Zinda Hai on a reality show, Salman Khan casually used the word "Bhangi" to describe his dancing style. Shilpa Shetty, on the other hand, used the word while interacting with reporters to describe her choice of clothing at home. These comments elicited the ire of the Valmiki community, who lodged a police complaint against the actors. The angered members of the community also protested against the release of Salman's latest action flick in Agra. It remains to be seen how the two respond to this new wave of trouble.
Nawazuddin Siddiqui's autobiography had some serious and bold statements. Even though the book never saw the light of the day, the actor opened up about the women in his life, including his Miss Lovely co-star Niharika Singh. He wrote: "Niharika obviously expected some of the sweet conversations that lovers have, to take place between us. But I was quite a selfish b*****d. I had a plain aim: go to her house, make out and leave. I couldn't talk lovey-dovey too much. It finally struck her that I was a rascal who cared only for himself."