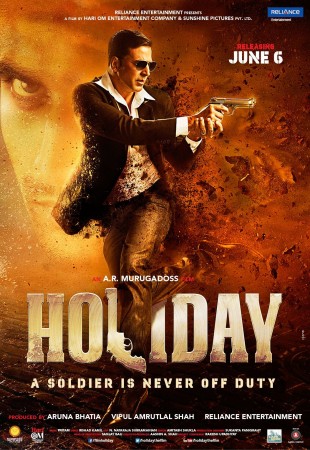 Akshay Kumar starrer "Holiday – A Soldier is Never Off Duty" is a complete action drama film, but it fails when it comes to romance, according to critics. The film, which focuses on terrorism, has gained positive reviews for the action and drama.
Directed by AR Murugadoss "Holiday" is said to be a remake of blockbuster Tamil film "Thuppakki." The film has certain loopholes, but is worth watching as it shows Indian army in a positive light.
Co-produced by Twinkle Khanna, the film also features Sonakshi Sinha, Govinda, Sumeet Raghavan, Freddy Daruwala and Gireesh Sahdev in important roles.
Check out the reviews here:
Taran Adarsh of Bollywood Hungama said: "Let's not confuse HOLIDAY - A SOLDIER IS NEVER OFF DUTY with a typical Akshay Kumar film that tilts heavily towards humor or has an uninterrupted flow of gags. This one tackles a serious issue -- terrorism -- and how a lone soldier sets out to annihilate the sleeper cells that are out to create mayhem in Mumbai. Sure, a number of films focusing on terrorism have made it to the big screen, especially post 9/11, but Murugadoss marries the serious issue and good old romance [Akshay-Sonakshi] most effortlessly.
"Expertly filmed and edited [Amitabh Shukla], the sole hiccup is that the romantic portions could've been short-n-snappy.
"On the whole, HOLIDAY - A SOLDIER IS NEVER OFF DUTY is a slick action-thriller that keeps you engrossed, enthralled and captivated all through, thanks to its fascinating premise and a watertight, razor-sharp screenplay. Go for it!"
Mohar Basu of Koimoi.com said: "Don't miss Holiday for the sheer fun of watching a film that wins solely for its delicious brutish action. The narrative isn't exactly a work of genius with the logical apertures frequently getting the better ​of you. But Murugadoss doesn't let go off the breakneck speed that Holiday benefits from. ​The film without the briskness would have failed to rise above the half decent mark. Don't miss this one for the reckless headlong roller coster ride it holds for you."
Madhureeta Mukherjee of The Times of India said: "While the core plot is compelling and finely directed, the side-tracks - like bombs needing to be deactivated and the romantic angle, waste screen-time and the songs infiltrate the plot too often. The film is too long and needs a taut edit. It has flaws too, but doesn't fail to entertain.
"This one applauds the jawans who live in the jaws of death, and is a 'wake up' call for all the 'sleepers' that abound. Bravo!"
Saibal Chatterjee of NDTVsaid: "Out here, logic is given an extended break as lead actor and co-producer Akshay Kumar, in the guise of the rough and ready soldier, goes about the task of ridding Mumbai of sundry sleeper cells that are planning a huge terror strike.
"Holiday does have a few moments that are absorbing in a facile sort of way, but the novelty of the plot wears off rather quickly. Both the pace and length of the film are adversely affected by gratuitous detours that the screenplay takes into romantic banter between the soldier and his girl, which involves the hero's bumbling commanding officer (a terribly miscast Govinda in a cameo).
"Holiday lacks the sustained intensity and urgency of an edge-of-the-seat spy thriller."
Vishal Verma of Indiaglitz said: "Holiday - A Soldier Is Never Off Duty is somewhat muddled by its of putting romantic track but Akshay Kumar in his most wanted action packed avatar is kickass. A mast must watch for Akshay and action buffs."
Saurabh Dwivedi of India Today said: "Gajani fame director AR Murugadoss has showed Akshay in a slim, smart and fast avatar in the film. But Akshay's freshness and story's pace is killed by the unneccessary romantic angle, songs and film's duration. If you are a fan of hardcore masala films, then go and watch Holiday: A Soldier Is Never Off Duty and if you like short, crisp and witty films then stay out of the theatres."
Mihir Fadnavis of Firstpost said: "AR Murugadoss approach to cinema is fascinating – there is no point in making a straightforward good movie, because that process does not have any mojo.
"Ultimately, Murugadoss makes you wonder if you should be making a movie simply because you're allowed to make a movie."