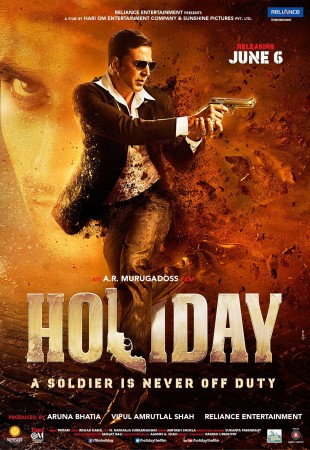 Akshay Kumar and Sonakshi Sinha starrer "Holiday – A Soldier Is Never Off Duty" has put an end to the dry spell at the box office with its excellent performance.
After a solid weekend, the big budget film maintained a strong hold on first Monday at the box office. The film passing the first weekday's test raked in ₹8.02 crore. The four day total of the film has reached near the ₹50 crore mark in India.
"#Holiday Fri 12.18 cr, Sat 12.34 cr, Sun 16.80 cr, Mon 8.02 cr. Total: ₹ 49.34 cr nett. India biz. All set for an impressive ₹ 65 cr Week 1," trade analyst Taran Adarsh tweeted.
Positive word of mouth has helped the collection of the film to increase at the box office in four days. Trade experts are now expecting that the film will take its week one total to ₹65 crore, if it continues the steady run at the box office.
"Holiday" directed by AR Murugadoss is having a fantastic box office run in international market also. The film, which was released in 400 screens across 41 countries, raked in ₹10.61 crore ($1.796 million) in its opening weekend from overseas box office.
"#Holiday, which embarked on a slow start in key intl markets [except UAE-GCC], witnessed substantial growth in business from Day 2," Adarsh tweeted.
Here is the country wise breakup of the film:
US: The opening weekend total of the film is ₹1.81 crore ($306,591) from 114 screens.
Canada: The film raked in ₹42.82 lakh (US$ 72,427) from 17 screens in three days.
UAE-GCC: "Holiday" had embarked on a good note in UAE-GCC market. From this region, the film had the highest collection. It minted ₹4.95 crore (AED 3,074,320) from UAE-GCC market.
UK-Ireland: The opening weekend collection is ₹1.06 crore (£106,496).
Australia: From 20 screens, the film raked in ₹53.80 lakh (A$ 97,266) from Australian market.
Malaysia: The film is released in just two screens in Malaysia from where it raked in ₹4.72 lakh (MYR 25,551).
The film has performed well at the box offices in Pakistan also. In its opening weekend, it raked in PKR 1.76 crore.
"#Holiday packs a solid punch at Pakistani BO. Collects PKR 1.76 cr in its opening weekend. EXCELLENT," Adarsh tweeted.
Meanwhile, Kangana Ranaut starrer "Queen" was released in Hong Kong on Friday. After creating buzz in India and overseas market, "Queen" has opened with a bang in Hong Kong.
"#Queen biz jumped manifold with each passing day in Hong Kong: Thu HK$ 19,369, Fri HK$ 37,462, Sat HK$ 71,041, Sun HK$ 72,557. Excellent!" Adarsh tweeted.
It was released in four screens in Hong Kong, from where it fetched ₹16.95 lakh (HK$ 222,267) in its opening weekend.