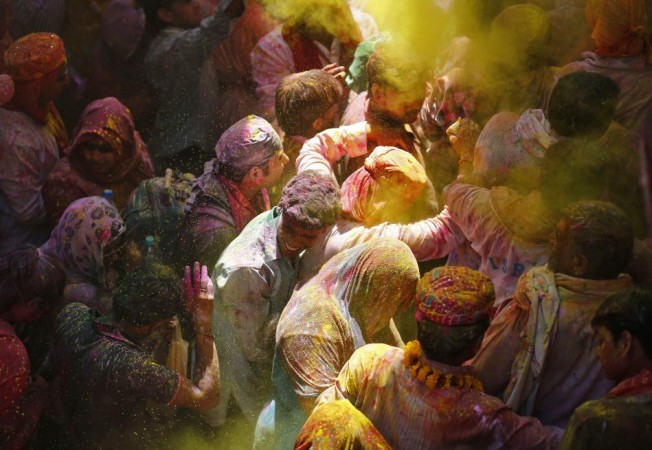 Holi, the festival of colours, began in India on 9 March with Lathmar Holi celebrations in Barsana, Uttar Pradesh.
Hundreds of people from across India and world came together in UP and Bihar where the festival of colour is celebrated with great fervour. Holi marks the end of winter and beginning of spring.
The festival begins with Lathmar holi played in Barsana, a small village in Mathura district of Uttar Pradesh.
Lathmar Holi usually takes place around a week before the main Holi day. During the Lathmar Holi celebrations, women from Barsana village wait with wooden sticks to beat the men who come from the adjacent village of Nandgoan, the hometown of Lord Krishna.
Hindu Mythology says that Lord Krishna along with his friends visited Barsana, Radha's village, to tease her and other gopis by throwing coloured water on them. In retaliation, Radha and gopis chased him and his friends to beat them up with sticks.
It is believed that Krishna was jealous of Radha because she was fairer than him. He pestered his mother Yashoda about Radha's fair complexion so much that she asked him to put colour on Radha's face and change her complexion.
Even today, people from Nandgoan and Barsana follow the ritual. Men soaked in coloured water arrive in Barsana and tease women by singing provocative songs. The women then beat them with sticks (lathis) and men use shields to protect themselves.
Holi is celebrated for more than two weeks in Vrindavan and Mathura, where lord Krishna was born and grew up.
Mathura, Vrindavan, Nandagaon, Barsana and other places in the country attract tourist during this festival.
This year, the main Holi day falls on 17 March (Monday).
Have a look at the Lathmar Holi celebrations in photos here: