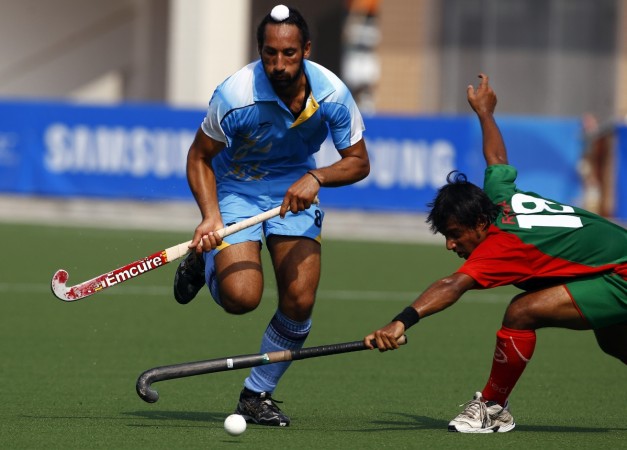 All eyes will be on Sardar Singh and Jamie Dwyer, who will be up for grabs in the Hockey India League player auctions at The Lalit in New Delhi on Thursday. Both Sardar and Dwyer were surprisingly released by Delhi Waveriders and Jaypee Punjab Warriors respectively.
After successful last three editions of the HIL, the fourth season promises to be an entertaining one with players from countries such as India, Australia, New Zealand, Canada, USA, England, South Africa, Netherlands, Germany, Belgium, Scotland, Malaysia, Japan and Korea set to be involved in the auction.
A total of 135 Indian and 142 foreign players will be included in the auction with six teams in the horizon. The participating teams can have a total of 12 Indian players and 8 foreign nationals, but it also depends on the numbers of players they have retained.
Waveriders, Warriors and Ranchi Rays have retained the maximum quota of six players, while Dabang Mumbai have retained the least 3 players. Kalinga Lancers and Uttar Pradesh Wizards have retained 5 players each.
| | | | |
| --- | --- | --- | --- |
| Teams | Players Retainded | Players Balance | Balance Salary Cap |
| Jaypee Punjab Warriors | 6 | 14 | $472,500 |
| Ranchi Rays | 6 | 14 | $337,000 |
| Kalinga Lancers | 5 | 15 | $520,000 |
| Uttar Pradesh Wizrads | 5 | 15 | $441,000 |
| Dabang Mumbai | 3 | 17 | $563,000 |
| Delhi Waveriders | 6 | 14 | $514,000 |
With all the above mentioned teams having spent some amount by retaining players, they need to spend their remaining money wisely during the auctions. All the teams will come into the auctions with their homework done well and will only go for players, who fit their bill perfectly.
After having been involved with the HIL for the last three editions, teams are aware of what constitutes a great squad capable of winning the competition.
Apart from Dwyer and Sardar, other players who should attract massive bids are Rupinder Pal Singh, Lloyd Norris-Jones, Kieran Govers, Nithin Thimmaiah amongst others, who could also command a huge fee.
But these big players will cost a bomb as Sardar, Thimmaiah and Rupinder have a base price of USD 20,000 each and Dwyer is even more with USD 30,000.
Ranchi Rays, who are the defending champions, will be eager to get some formidable players in the line up this season as well, after deciding to retain stars such as Ashley Jackson, Fergus Kavanagh, Barry Middleton, Birendra Lakra, Kothajit Singh, Manpreet Singh, while they had to let go other players like Austin Smith, Justin Reid-Ross amongst other Indian players.
Though there is huge anticipation for Thursday's auction, Hockey India have come under severe criticism after they decided to not allow Indian players above 30 years to participate in the auction. Former India captain Dhanraj Pillay was against this HI move.
Complete list of foreign and international players with their base price can be found here.
Hockey India League Player Auctions 2015
Date: 17 September

Venue: The Lalit Hotel in New Delhi
Auctioneer : Bob Hayton