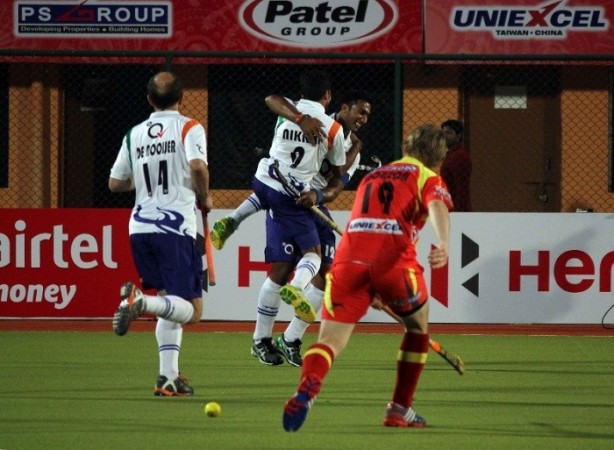 Indian hockey players who are above 30 years of age received a major blow as Hockey India (HI) have decided to exclude these players from the auction for the Hockey India League. But such stance of HI has not been taken kindly.
Such ruling does not sound fair for top class players such as Adrian D'Souza, Deepak Thakur, Prabhjot Singh amongst others, who may have crossed 30, but have plenty in their tank to participate in the Hockey India League. D'Souza's recent performance in the Guru Tegh Bahadur Gold Cup is testimonial to the mentioned fact.
Hockey legend Dhanraj Pillay wants HI to look into the new policy for the auctions, which takes place next month, as the former forward believes some players are still in good form and can deliver like they have done in the past.
"I request Narinder Batra to reconsider the decision. Players like Adrian D'Souza, Arjun Halappa, Prabodh Tirkey have left a deep impact on hockey and they are still as capable as they were a few years back," The Times of India quoted Pillay as saying.
"These players have given invaluable services to the sport. Even today in places like Punjab, Delhi, Haryana and Chandigarh, they are a household name."
What makes the case even more frustrating for players from India is that the rule applies for Indian players only and not foreign players. A number of international players from abroad will go under the hammer in September, which includes players above aged 30.
These are definitely not encouraging signs for Indian hockey as players from the home team have been overlooked. If players such as Jamie Dwyer (36) Juan Manuel Vivaldi (36) David Carter (33) can play in the Hockey Indian League, why not Indian players?
"If foreigners who are above the age of 30 can be accommodated, I am sure Indians can as well."
Age certainly cannot be any criteria for a player to be overlooked. It is the player who needs to decide about their future and not the administrators who run the sport in India.
One cannot just push some senior players out of the Indian hockey picture.