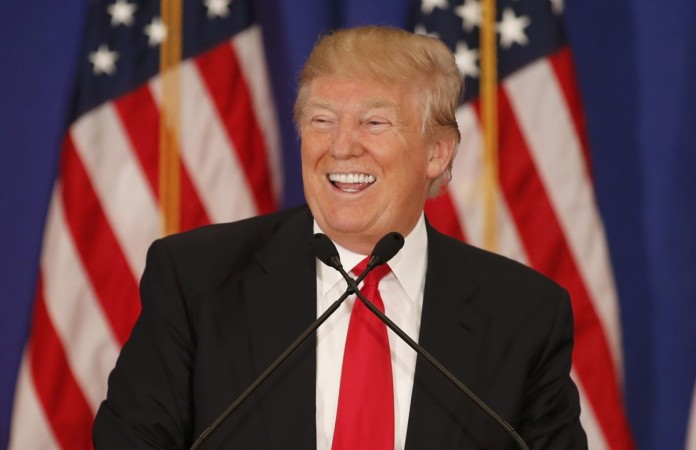 A fringe Hindutva group called the Hindu Sena is all set to hold a grand celebration for presumptive Republican candidate for the U.S. presidential race Donald Trump on his birthday on Tuesday at New Delhi's Jantar Mantar area. The group has given an open invitation to people to come and attend the birthday celebration.
The outfit had previously conducted a havan for Trump's victory. They are supportive of Trump as they believe he'd be able to free the world of "Islamic terror."
"We support him because he's anti-Islamic, anti-jihad and anti-terrorism. He is also going to take China to task. He recently said that if he became the U.S. president, China would pay, and China is India's enemy. We support him because he's on our path," Prem Varma, the national-level secretary-general of the Hindu Sena, told International Business Times India.
For the birthday celebration, the group has organised for a seven-kilo cake and a grand orchestra, Asian News International reported.
The invite to the celebration, which is scheduled for noon on Tuesday, says: "Join us and let's celebrate the birthday of the saviour of humanity, the Republican Presidential Nominee of the United States of America."
"We are celebrating his special day, despite the recent tragedy in Orlando because, he is taking a stand against Islamic terror and that is very important to India, as we have been plagued from this kind of terrorism. Only one man can save us all from this epidemic and that is him. I pray that he wins with heavy majority and fulfils his promise of wiping Islamic terror off the face of the earth," National President of Hindu Sena, Vishnu Gupta told ANI.
After the Orlando shooting on Sunday, Trump drew flak for being self-congratulatory for being "right" and called on U.S. President Barack Obama to resign, and Democratic candidate Hillary Clinton to quit the presidential race for not calling the attack "Islamic terror."
He also renewed his call for a ban on Muslims entering the U.S. His hardline stance against Muslims has earned him supporters and critics alike along the presidential race.