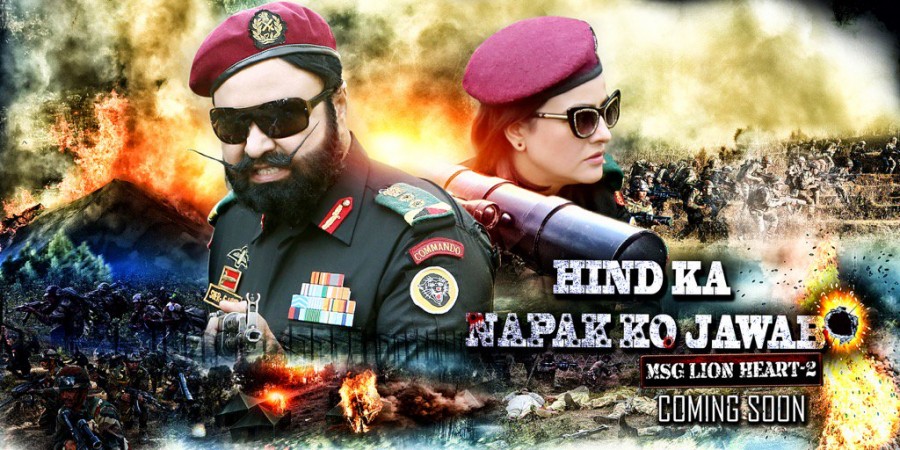 The controversial chief of Sikh religious order Dera Sacha Sauda, Gurmeet Ram Rahim Singh, has unveiled the poster of a film he is starring in, and as promised earlier, it is about the surgical strike carried out by the Indian Army on terror establishments along the border in Pakistan-occupied Kashmir (PoK).
Singh – who claims to have won the Dadasaheb Phalke Film Foundation Award winner as the most popular actor, writer and director, which is not to be confused with the Dadasaheb Phalke award bestowed by the Union government – on Saturday (January 7) evening unveiled the poster of the film which shows him sporting the army uniform and his signature moustaches.
The poster seems to have received a phenomenal response since its release on Twitter around 7:30 pm, with around 40,000 retweets and counting. The film, named Hind Ka NaPak Ko Jawab [note the pun on the shorter name for Pakistan?] is actually a sequel to MSG – The Lionheart, which saw the Dera Sacha Sauda chief fending off a number of evils – from social to extraterrestrial!
Surprisingly, despite its not-so-great production values, MSG – The Lionheart, which itself was the third film in the MSG series, had grossed Rs 150 crore at the box office, creating a record of sorts. But that was not the only record attached to it. That film has also seen him in 30 different roles, both in front of and behind the camera – from "stunt-performer" to "voice-over artiste". It remains to be seen if he has similar duties in Hind Ka NaPak Ko Jawab.
The surgical strike on which this film is expected to be based is the one carried out on the night of September 29, 2016, by the Indian Army along the India-Pakistan border, which resulted in the deaths of 38 terrorists and the demolition of several terror launchpads.