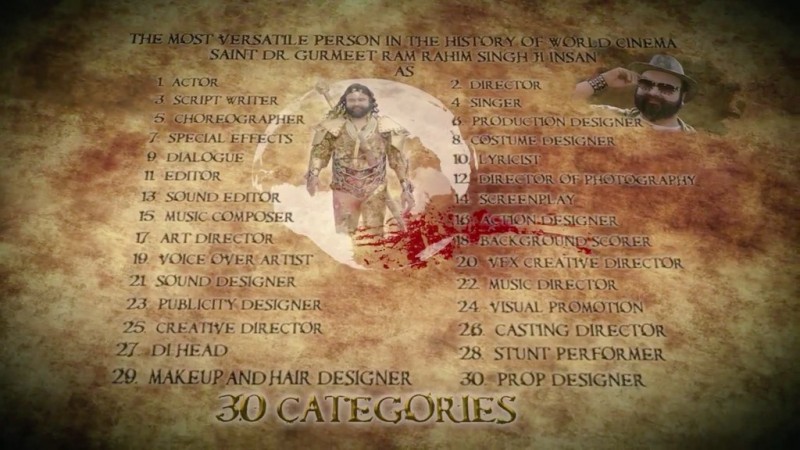 Gurmeet Ram Rahim Singh, the controversial leader of the equally controversial sect Dera Sacha Sauda, is back with the trailer of his third film, titled "MSG The Warrior - Lion Heart." The film's 3-minute 38-second trailer was officially released on Monday, Sept. 5.
According to the official YouTube page of the trailer, "'MSG The Warrior - Lion Heart' is the third movie in the MSG series. The movie has an edifice of entertainment built on the strong foundation of social message." It adds: "The movie is an effort to reach out to the youth of our country who are often led astray by bad company or advice."
The trailer opens by crediting the Dera Sacha Sauda leader as "Dadasaheb Phalke Film Foundation Award winner for most popular actor, writer and director." The foundation and its award are not to be confused with the Central government's annual Dadasaheb Phalke Award.
The film has reportedly been directed by "Baap beti ki jodi [father-daughter duo]" — a reference to Gurmeet Ram Rahim Singh and his daughter Honeypreet. The film also credits Gurmeet Ram Rahim Singh as the "most versatile person in the history of world cinema," listing out 30 categories, which he has contributed in for the making of this film, and the two others before it. The categories include "stunt performer" and "voice-over artist," among others.
The acting seems on par with the previous two films on Gurmeet Singh Ram Rahim. The visual effects and stunts, two other categories for which the Dera Sacha Sauda chief has taken credit, are comparable to the original "Star Trek" series that was aired from 1966 to 1969.
As for the story, it becomes clear within the last minute of the trailer. MSG, who is now apparently a top secret agent but acts as inconspicuous as a preening peacock among crows, must combat aliens with technology that is 1,000 years advanced as compared to ours. But he, for some reason, chooses to go back 1,000 years. Also, the alien suits seem to have been "inspired" by Amitabh Bachchan's famous costume in the "Yaraana" song, "Saara Zamana Haseeno Ka Deewana."
See for yourself!
Dera Sacha Sauda was most recently in news after a Haryana minister donated funds to the controversial group to train athletes for the Olympics, despite there being no clear evidence that the sect does anything of the sort.