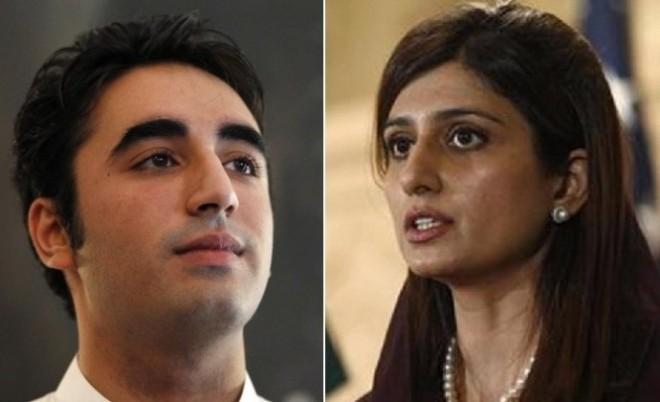 A rumoured love affair between foreign minister Hina Rabbani Khar and President Asif Ali Zardari's son Bilawal Bhutto has rocked Pakistan.
A Bangladeshi tabloid "The Weekly Blitz" has reported that Bilawal and Hina, who is 11 years older than him, are in love and are planning to settle down in Switzerland after marriage.
It was reported that on the day of Eid Ul Fitr Zardari became furious when Hina had sent Bilawal a "special gift" containing a flower bouquet and a hand-written greeting card with a message that read: "No wonder we waited enough, not its time to give an end to our waiting. Eid Mubarak!"
Upon learning of the gift, Zardari called Hina and expressed his anger over her extra-marital affair with his 24-year-old "minor son", the tabloid reported.
According to reports, Hina, 34, is negotiating a divorce settlement with her husband Firoze Gulzar, who is the owner of Galaxy Textile Mills and with whom she has two daughters - Annaya and Dina. There are also reports suggesting that Gulzar has apparently asked for call records of both Hina and Bilawal.
The Blitz reported that Zardari came to know about the affair when both Hina and Bilawal were found in a uncompromising postition at the president's house, where Bilawal also resides.
The tabloid also claimed that on Bilawal's birthday last year, Hina had sent a greeting card with a hand-written message stating, "The foundation of our relations is eternal and soon we shall be just ourselves."
Zardari is said to be not happy with Bilawal and Hina's alleged affair. He also believes that the affair will not only end his son's political career but will also cause doom for the ruling Pakistan People's Party (PPP), which was founded by Zardari's father-in-law - the late Zulfiqar Ali Bhutto.
On the other hand, Bilawal has made his mind to say good bye to politics and leave the country either by the end of 2012 or early next year, the tabloid quoted a dependable source within the Zardari family as saying. Even Hina is expected to resign from her post around the same time.