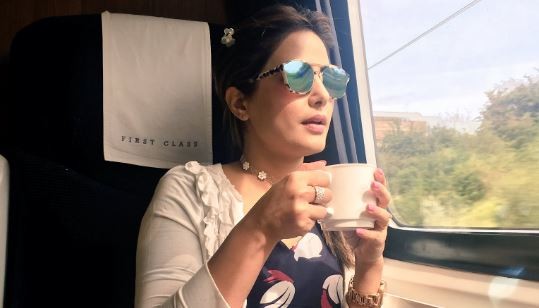 Actress Hina Khan, popular as Akshara, has quit the television show Yeh Rishta Kya Kehlata Hai, but she will not be missing from the small screen if reports are believed to be true. Khan has reportedly quit the television to participate in the reality show Bigg Boss 10.
While the reports say that she has quit the show because the makers of Rishta Kya Kehlata Hai focused more on the younger generation, sources close to her suggest that she wanted to do something different. And since then reports of Khan doing Bigg Boss 10 has surfaced online. Reports even say that the makers approached Khan and soon she will sign on the dotted line. If all goes well, she might enter the reality show as a wild card entry.
Interestingly, the show already features Karan Mehra, who played the role of her husband Naitik, and Rohan Mehra, who played the role of her son Naksh, in Rishta Kya Kehlata Hai. Karan and Khan's cold war is not hidden from the media and for eight years they did not share a good bond on the sets of the show, so it will be interesting to see Karan and Khan's chemistry inside the show if she agrees to be a part of Bigg Boss 10.
Meanwhile, after playing the role of Akshara in the show for eight years, Khan has finally decided to quit the show. She shot for the last episode recently.
"Yes, it's true. I am leaving the show. I know there has been a lot of rumours going around in the past few days...but yes, I am leaving the show on a good note. It's been almost 8 years that I have given to 'Yeh Rishta...' and it was a beautiful journey. However, now, nothing new is left in the character and it has come to a saturation point, where Akshara's journey on a whole has been shown. There is nothing left for the character to do and the story is now being focused on the new generation. People are feeling sad that I am leaving the show, but, I need to move ahead and I wish to try and explore something different. I wanna do a comedy reality show and play a different character," she told reporters.