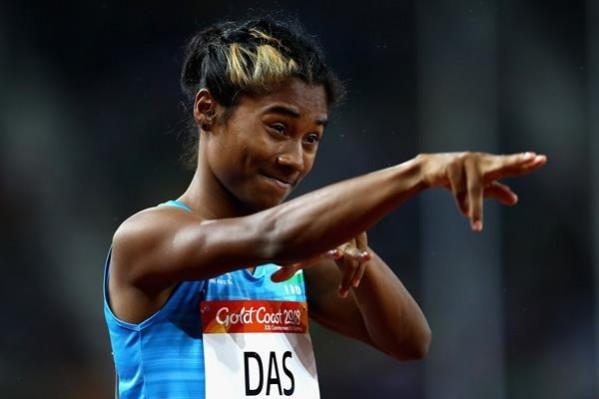 As the whole nation applauded the historic feat of gold-medal winning sprinter Hima Das, the Athletics Federation of India stirred a massive row after commenting on her English speaking skills.
The 18-year-old Assamese sprinter-turned quarter miler created history after she clocked 51.46 seconds in the women's 400m event in Tampere, Finland. Das also became the first Indian woman to win a global title at an IAAF event.
As congratulatory messages poured in from all quarters for India's newest teenage sensation, the AFI Twitter, despite praising her, was at the receiving end of severe criticism from Twitter users. Here's why!
"Not so fluent in English but she gave her best there too. So proud of u #HimaDas Keep rocking & yeah, try ur best in final!"
Severe backlash for the AFI ensued as Twitter users slammed the account for mocking her English and pinpointing that particular point. Soon after this, the account issued an apology and stated:
"We apologize to all Indians if they were hurt by one of our tweets. The real intention was to show that our runner is undaunted in any situation - on the field or off it! Despite coming from a small town, she spoke without hesitation to foreign reporters in English! Once again we apologize to those offended, Jai Hindi!" translated from Hindi.
Many users had welcomed the apology tweet. A Twitter user even said: "it takes guts to own up their mistakes & talk about it @afiindia .. well done!"
Das joined Commonwealth Games gold medalist Neeraj Chopra as the only two Indian athletes to have finished on the top step of the podium at the World U-20 Championships.
Although Hima was trailing behind fellow sprinters for the most part of the race, the final burst in her running led to the commentator describing the last few seconds as: "Here comes Hima Das, the Indian... she can see the line... she can see history."
वीडियो फ़ाइनल से पहले का है, वीडियो बहुत अच्छा है, इसलिए हम इसे DELETE नहीं करेंगे! सभी देखें! एक बार फिर उनसे क्षमा जो नाराज हैं, हिमा को शुभकामनायें देने के लिए सभी का शुक्रिया! जय हिन्द!

— Athletics Federation of India (@afiindia) July 13, 2018
सभी भारतवासियों से क्षमा अगर हमारी एक TWEET से आप आहत हुए है!असल उद्देश्य यह दर्शाना था कि हमारी धाविका किसी भी कठनाई से नहीं घबराती, मैदान के अंदर या बाहर! छोटे से गाँव से आने के बावजूद, विदेश में अंग्रेजी पत्रकार से बेझिझक बात की! एक बार फिर उनसे क्षमा जो नाराज हैं, जय हिन्द!

— Athletics Federation of India (@afiindia) July 13, 2018