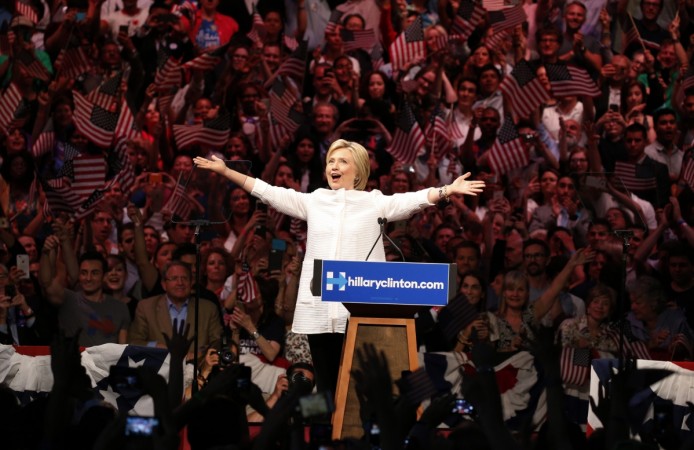 Hillary Clinton has won the California primary reports said on Wednesday. She also won New Jersey and New Mexico primaries. With these wins, she is inching towards becoming the Democratic Party's nominee for the U.S. presidential elections 2016.
Her opponent Bernie Sanders on Tuesday said that he would continue to fight on. However, on Tuesday she appealed to the supporters of Bernie Sanders to unite with her against Republican candidate Donald Trump.
"This campaign is about making sure there are no ceilings—no limits—on any of us," she tweeted on Wednesday.
Even as votes from the California primary were still being counted, Clinton attacked Republican presidential candidate Donald Trump, saying he is "temperamentally unfit to be president and Commander-in-Chief."
Clinton has traversed from being the wife of a U.S. president to becoming the first female candidate from a major American party for the presidential elections.
"Tonight caps an amazing journey — a long, long journey," she was quoted as saying by the New York Times on Tuesday. "We all owe so much to those who came before, and tonight belongs to all of you."
On Tuesday, she waxed nostalgic about her mother witnessing her success. While former U.S. president and her husband Bill Clinton tweeted, "I keep saying Hillary is the ultimate changemaker, and tonight she proved it. I couldn't be more proud. History made. #ImWithHer [sic]"
Meanwhile, the chances of Sanders rallying party delegates behind him during the Democratic Party Convention in July turned bleak.
During a rally in Santa Monica on Tuesday, Sanders attempted again to garner support for his campaign.
"I am pretty good in arithmetic, and I know that the fight in front of us is a very, very steep fight," he said. "But we will continue to fight for every vote and every delegate we can get."