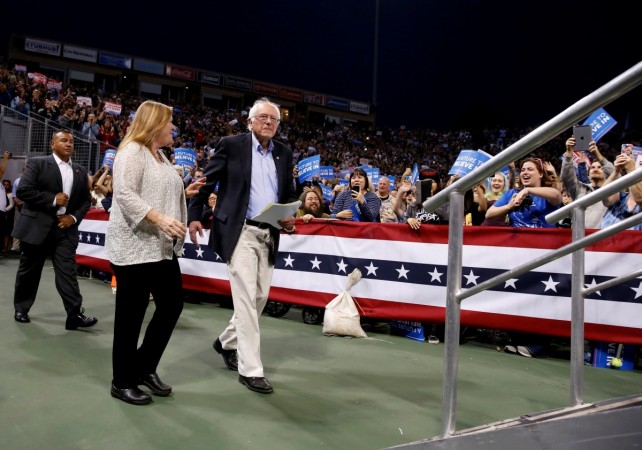 Vermont Senator Bernie Sanders clinched Oregon on Tuesday while former U.S. secretary of state Hilary Clinton took Kentucky by half a percentage in the Democratic primaries in the run-up to the presidential race. Clinton had won by 35 percent of Kentucky in 2008 against Barack Obama.
Sanders, who took half the delegates in Kentucky, declared in California that he would continue fighting "until the last ballot is cast." He was also quoted by CNN as saying that he was under pressure from the Clinton campaign to quit the race.
"We won a great victory in the state of Washington a few months ago, we just won Oregon, and we're going to win California," NBC News quoted Sanders as telling the crowd in California. "I am getting to like the West Coast!" He also said he'd have to defeat Clinton before defeating Republican presidential nominee Donald Trump.
Clinton on Tuesday night tweeted: "We just won Kentucky! Thanks to everyone who turned out. We're always stronger united. [sic]" She also thanked Kentucky for "having our back."
While Clinton did not make any speech on Tuesday, her press secretary Brian Fallon tweeted: "Bourbon. Neat."
Clinton has 280 more delegates as well as more superdelegates endorsements than Sanders. The Kentucky and Oregon scores would not affect her projected win in June, according to the Associated Press. However, the thin margin with which she won Kentucky points to weaknesses in her campaign and could cause problems for her in uniting the party after the primaries. She has also faced criticism for being unable to snuff out Sander's campaign.
The delegate-rich California and New Jersey primaries will take place on June 7, when Clinton is poised to become the presidential nominee from the Democratic Party, according to CNN.