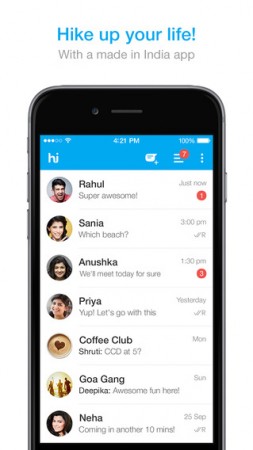 Instant messaging apps are gaining immense popularity among smartphone users and the competition is getting tougher. To outperform the rivals in this category, companies like WhatsApp and Hike are putting on rough battles.
After WhatsApp announced plans to add voice-calling feature for its popular mobile app, India's Hike Messenger is prepping a similar move. The new evidence of voice-calling feature on Hike comes via set of leaked screenshots that show VoIP calling in action.
According to Firstpost, which obtained the latest set of leaked screenshots, Hike's messenger app will allow users to make free calls via internet. This may not be an entirely new idea, but it definitely helps Hike add more features to its portfolio. Additionally, the voice-calling feature will have a unique capability of supporting 2G connections, a much-needed feature for the budget-conscious Indian consumers. Hike will optimize the new feature to work with slow-speed internet networks, which will keep the data usage on the down low.
Hike seems pretty confident with the new feature, so the voice-calling on Hike will be launched globally instead of limited availability, the report added.
Hike has setup a strong user-base since its launch in December 2012. The app has over 35 million users so far and it boasts that 90 percent of its users are aged less than 25 years in India. The app has its own appeal to the young crowd with features like Hike Offline, Hidden Mode, Regional Stickers and lot more.
The addition of voice-calling on Hike is not official yet, but is imminent. Last week, the company acquired a US-based startup, Zip Phone, which offers free voice-calling over the internet. If everything goes as planned, the report suggests the new feature to be rolled out within few days. What's unclear is that if Hike will bring the new addition as free or subscription-based offering, which may be a turn off to many subscribers.