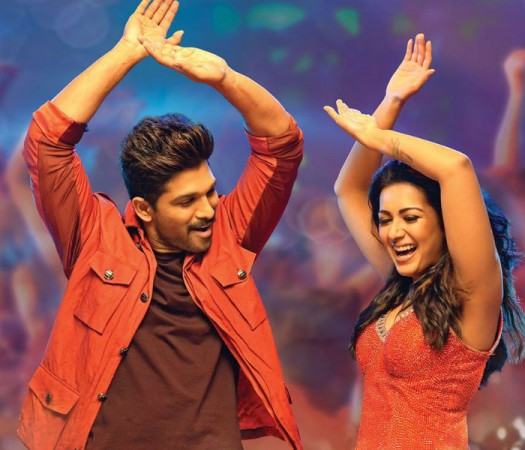 Stylish star Allu Arjun's "Sarainodu" (Sarrainodu) has topped the list of the top 20 highest grossing Telugu movies of 2016, while "Oopri" and "Nannaku Prematho" landed at the second and third places, respectively.
The year of 2016 started on a good note for Tollywood with its first release "Nenu Sailaja" turning a big money spinner at the ticket counters. Four big-ticket movies like "Nannaku Prematho," "Dictator," "Express Raja" and "Soggade Chinni Nayana" clashed at the box office during Sankranti festival and trade experts were sceptic about their prospects. Three of them turned out to be hit at the worldwide box office, while "Dictator" was a flop at the ticket counters.
Telugu film industry released over 35 small-budget movies in February and March. "Oopiri" and "Krishna Gaadi Veera Prema Gaadha" were the two big-ticket films released in these months and they made decent business, while most of the small movies were flops at the box office. "Kshanam" was a surprising hit of the season. "Kalyana Vaibhogame," "Guntur Talkies," "Shourya," "Tuntari," "Run" and "Shiva Ganga" were some of the hyped small-budget films and they turned average grossers at the ticket counters. Bellamkonda Sai Sreenivas' "Speedunnodu," Aadhi's "Garam," Sunil's "Krishnashtami" were among the disasters in these months.
April started on a dull note with with the average performance of "Savitri" and "Attack." Pawan Kalyan's "Sardaar Gabbar Singh," which was the most hyped film, bombed at the box office in the second week of the month and its disastrous performance shocked many in the industry. The industry scored two hits with "Sarainodu" and "Eedo Rakam Aado Rakam" in the next couple of movies.
May witnessed a limited number (8+ movies, including 4 dubbed films) of releases, but the movie suffered huge losses with superstar Mahesh Babu's most-hyped flick "Brahmotsavam" turning disaster at the box office. Sai Dharam Tej's "Supreme" became hit at the box office. Dubbed films like "24" and "Bichagadu" were also hit. "Bichagadu" surprised everyone with its blockbuster success.
Tollywood released over 15 movies in June and Nithin's "A...Aa," and "Gentleman" became hit at the box office. Some of hyped films like "Sri Sri," "Okka Ammayi Thappa," "Right Right," "Rajadhi Raja," "Oka Manasu" and "Kundanapu Bomma" failed to yield expected results.
Here is a table detailing of the price of distribution rights (DRP), gross collection and Distributors' share and status (hit/flop) of the top 20 highest grossing Telugu movies of 2016. These numbers are based on estimated reports and they may vary from the actual figures released by their makers.
| | | | | | |
| --- | --- | --- | --- | --- | --- |
| Rank | Movie | DRP | Gross | Share | Status |
| 1 | Sarainodu | Rs. 53.40 crore | Rs. 127.60 crore | Rs. 76 crore | Super Hit |
| 2 | Oopri (Tamil/Telugu) | Rs. 43.30 crore | Rs. 97.80 crore | Rs. 52.31 crore | Hit |
| 3 | Nannaku Prematho | Rs. 51.50 crore | Rs. 87.20 crore | Rs. 53.20 crore | average |
| 4 | Sardaar Gabbar Singh | Rs. 87.20 crore | Rs. 85.55 crore | Rs. 52.20 crore | Disaster |
| 5 | Soggade Chinni Nayana | Rs. 18.50 crore | Rs. 82.46 crore | Rs. 47.60 crore | Blockbuster |
| 6 | A...Aa (18 days) | Rs. 30.50 crore | Rs. 71.65 crore | Rs. 46.10 crore | Super hit |
| 7 | Brahmotsavam | Rs. 73.40 crore | Rs. 58.35 crore | Rs. 35.47 crore | Disaster |
| 8 | Supreme | NA | Rs. 44.05 crore | Rs. 25 crore | hit |
| 9 | Nenu Sailaja | NA | Rs. 40.10 crore | Rs. 20.70 crore | Super Hit |
| 10 | Dictator Rs. 24.90 crore | NA | Rs. 35.70 crore | Rs. 20.60 crore | Flop |
| 11 | Express Raja | NA | Rs. 28.35 crore | Rs. 13.30 crore | Super Hit |
| 12 | Gentleman (17 days) | | Rs. 28.20 crore | Rs. 16.23 crore | Hit |
| 13 | 24 (Telugu Dub) | NA | Rs. 27 crore | Rs. 15.40 crore | Hit |
| 14 | Eedo Rakam Aado Rakam | NA | Rs. 24.10 crore | Rs. 12.25 crore | Super Hit |
| 15 | Bichagadu (Dub) | Rs. 2 crore | Rs. 20 crore | Rs. 14.50 crore | Blockbuster |
| 16 | Kshanam | NA | NA | NA | Super Hit |
| 17 | Krishna gaadi Veera Prema Gaadha | NA | NA | NA | Above Average |
| 18 | Kalyana Vaibhogame | NA | NA | NA | Average |
| 19 | Oka Manasu | NA | NA | NA | Flop |
| 20 | Savitri | NA | NA | NA | Flop |