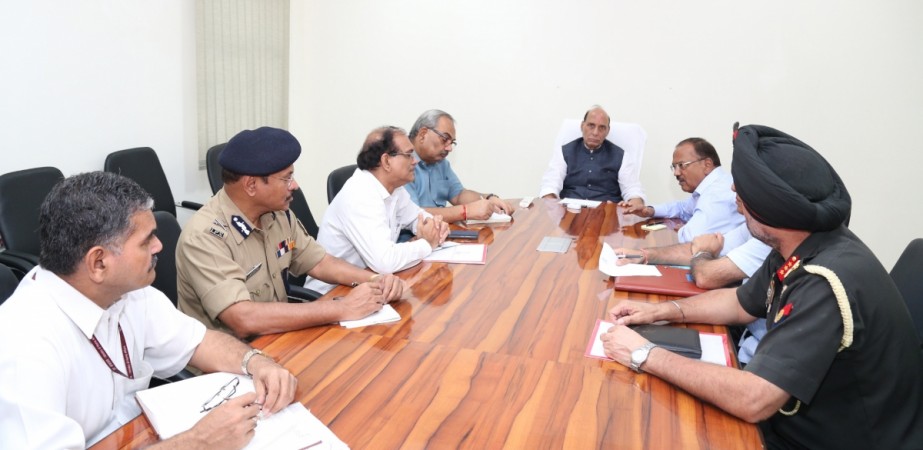 High alert has been issued in states along the border like Punjab and Jammu and Kashmir and at most airports and all central security organisations in the wake of the surgical strikes carried out against Pakistan by the Indian Army. The decision was taken in a review meeting on Friday attended Union Home Minister Rajnath Singh, National Security Adviser Ajit Doval, Union Home Secretary Rajiv Mehrishi and others to assess the security situation.
"The Border Security Force (BSF) and other central police organisations functioning under the Home Ministry have been put on high alert along the India-Pakistan border," an official source later said.
Apart from being ordered to increase the number of personnel deployed at sensitive posts, all BSF units in adjoining areas of international border in Jammu, Punjab, Rajasthan and Gujarat have been directed to step up security. Similarly, the Central Industrial Security Force (CISF) has been tasked to step up vigil at all industrial units, airports and other locations wherever they are deployed.
Earlier in the day, Rajnath Singh held separate meetings with National Security Guard (NSG) Chief Sudhir Pratap Singh, National Disaster Response Force (NDRF) Director General RK Pachnanda and CISF Director General O P Singh. According to an official source, these were routine meetings but were significant in the wake of the Army's surgical strikes across the LoC.
Meanwhile, both Punjab and Odisha have also sounded statewide high alert in order to secure all strategic locations such as airports, railway stations, bus stands, hotels, major reservoirs and security at dams, oil refineries and power plants has been enhanced. Along with this, vigil at other location such as defence establishments and temples has also been increased.
Odisha DGP said Quick Reaction Teams (QRT) and Special Tactical Units (STU) have been engaged to keep watch on movement of suspected people at these locations. In Punjab, about 1,000 villages within 10 kilometres of the international border have begun evacuation at the behest of the authorities.