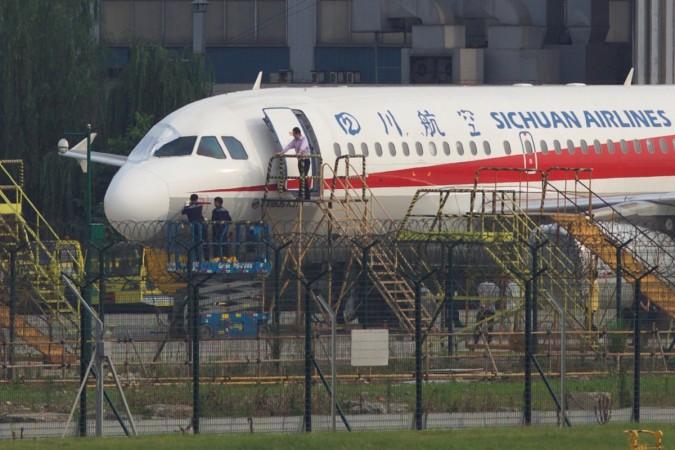 In a shocking incident, a Sichuan Airlines flight had to make an emergency landing after a windshield in the cockpit blew out at an altitude of 32,000 feet. The airline pilot, Liu Chuanjian, managed a clean escape with 119 passengers on board. Chuanjian carried out a successful emergency landing in Chengdu, a city in southwest China.
The Sichuan Airlines 3U8633 flight was flying from Chongqing, China, to the Tibetan capital of Lhasa. The cause of the break in the right windshield of the cockpit is yet to be ascertained as investigations are underway.
Social media was quick to pick up on the incident and the airline captain is now being touted a hero on various platforms. Chuanjian told Chengdu Business Daily that his co-pilot was sucked nearly halfway out of the flight after the windshield blew out, resulting in a sudden loss of pressure and drop in temperature.
"There was no warning sign. Suddenly, the windshield just cracked and made a loud bang. The next thing I know, my co-pilot had been sucked halfway out of the window," Liu Chuanjian was quoted as saying by Reuters. He further added that the severe turbulence and malfunctioning equipment after the windshield blew out made it hard for him to read the gauges.
Everything in the cockpit was floating in the air. Most of the equipment malfunctioned and I couldn't hear the radio. The plane was shaking so hard I could not read the gauges.
Thankfully, no passengers were hurt during the incident that could have otherwise turned tragic. However, according to the website of Civil Aviation Administration of China's (CAAC) Southwest Regional Administration, the co-pilot and a cabin crew of the flight suffered minor injuries.
Speaking on the incident, the Sichuan Airlines issued a statement on its official Weibo account and claimed that the issue was a "mechanical failure" and that the passengers were soon taken to their destination in a different flight, the news agency reported.
Although the occurrences of windshields cracking happen quite often, the instance of an entire windshield coming off is rare. A similar incident occurred in 1990 when the windshield of a British Airways flight blew out at 23,000 feet. The pilot survived the incident despite being partially sucked out of the cabin window, Reuters reported.