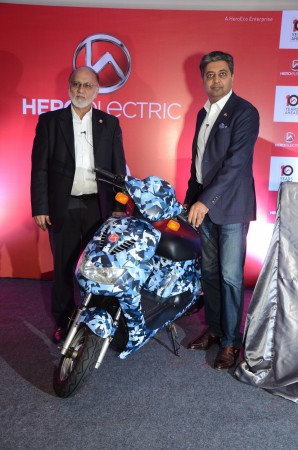 Hero Electric, the country's largest electric two-wheeler manufacturer, has pulled the wraps off three of its global products in India ahead of Auto Expo 2018. The three electric models that include two new bicycles namely A2B Kuo Boostand A2B Speed and a new e-scooter named AXLHE-20 will be launched in India throughout 2018 in a phased manner.
Hero will also showcase these three new electric two-wheelers at the Auto Expo 2018 along with new ones. Hero Electric also launched '10 Years Ahead' campaign to mark 10 years of manufacturing electric two-wheelers.
Also read: TVS to showcase Proto electric scooter at Auto Expo 2018: Is the model based on Jupiter?
AXLHE-20
Hero Electric's upcoming high-speed e-scooter codenamed AXLHE-20 is powered by a 4,000 Watt motor that produces peak power of 6,000 Watts. The e-scooter can reach a top speed of 85 kilometres per hour and has a range of up to 110 kilometres on a single charge. The lithium-ion battery on the e-scooter can get fully charged in around four hours. It also features regenerative braking, improving its performance.
A2B Speed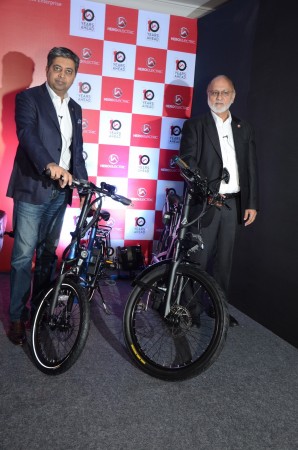 A2B is the UK-based electric bicycle-making subsidiary of Hero Electric Vehicles. Its A2B Speed e-bicycle is powered by a 500-watt motor. The Speed's 36-volt battery lasts for 700 full charge cycles and gives the electric bicycle a range of 70 kilometres along with a top speed of 45 kilometres per hour.
A2B Speed has an aluminium frame and eight gear Shimano XT rear derailleur transmission. It comes with Tektro Dorado hydraulic disc brakes.
A2B Kuo Boost
The Kuo Boost electric bicycle is powered by a 350-watt motor and has a top speed of 32 kilometres per hour. Its lithium-ion battery gives the Kuo Boost 60 kilometres of range per charge. The battery lasts up to 700 full charge cycles. Kuo Boost has an aluminium frame and weighs 20 kilograms. It is a foldable electric bicycle and has an eight-speed Shimano Derailleur gearbox to assist riders.