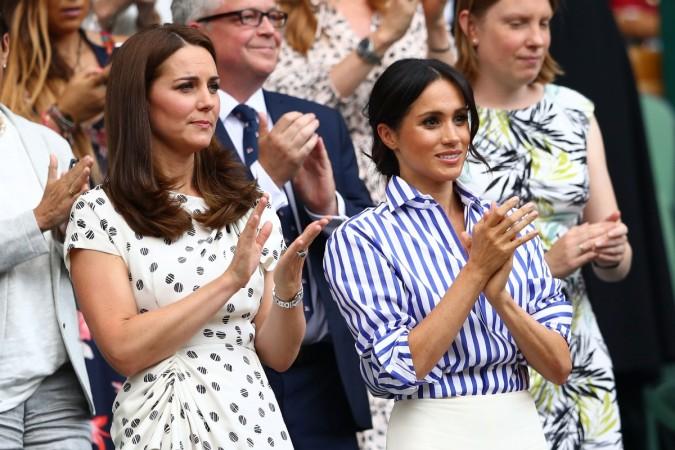 Although Meghan Markle attended Wimbledon's women's singles final match on Saturday along with Kate Middleton, the Duchess of Sussex was missing at the men's singles final on Sunday.
The official royal family website also did not unveil a schedule for Markle and Prince Harry on Sunday. Based on this, there are speculations that the newly-wed couple must have taken a day off from their public engagements for spending some time together at the royal castle.
ALSO READ: Prince Harry says 'No' to big family: Here's is how many children he wants to have
Last week, Meghan Markle and Prince Harry returned from their two-day trip to Dublin, Ireland. They could have gone for a short break, but the 36-year-old actress decided to go and support her friend Serena Williams at Wimbledon.
Meanwhile, Kate Middleton enjoyed the men's singles final match thoroughly with her husband, Prince William as Djokovic and Kevin Anderson played for the trophy. The Duchess of Cambridge was dressed in a bright yellow dress and was photographed in a jolly mood.
ALSO READ: This is how Prince Harry reacted when young footballer touched Meghan Markle's hair in Ireland
However, this is not the first time when Middleton was present at Wimbledon. Both Prince William and his wife are quite fond of tennis and they attend the matches every year. In 2017, Middleton said in an interview: "It is such a quintessential part of English summer. I was really taken by Agassi and Sampras, Ivanisevic and Steffi Graf. That for me was my first memories."
Middleton has also revealed that their love for the game has extended to their son Prince George as well. Previously in an interview with People, Sam Richardson, a coach with the association, said: "Kate says with George just being 4 he wants to whack a ball. So, she was asking what sort of stuff he should be doing. She said he's interested in it but more in whacking the ball."