Pace great Wasim Akram has said Jasprit Bumrah will be well equipped to bowl in English conditions if he forgoes a month of Indian Premier League (IPL) and plays in County Championship every year.
The former Pakistan captain's comments come after West Indies pace legend Michael Holding said he would not advise India to play Bumrah in the upcoming five-Test series in England, starting August 1 in Birmingham.
Also read: Chahal-Kuldeep to replace Ashwin-Jadeja in Tests? Virat Kohli talks about 'very brave' duo's chances
Holding had said during the recently-concluded South Africa tour that Bumrah was able to get wickets using his hit-the-deck-hard style in the "Rainbow Nation" but it would be of little help in England, where India need bowlers who can let the ball "kiss the surface" and "get it to move around".
"I agree with Mike [Holding] that you can't hit the deck on English surfaces but that would only come with experience. Look, the BCCI [Board of Control for Cricket in India] doesn't allow the Indian boys to play county cricket," Akram told the Press Trust of India on the sidelines of the ongoing St Moritz Ice Cricket in Switzerland.
He added: "If Bumrah plays at least a month of county [cricket] every year, trust me, he will be a better bowler. But then Indian board has to tell Bumrah that forego a month's IPL and play county cricket."
Akram's advice to Test bowler Bumrah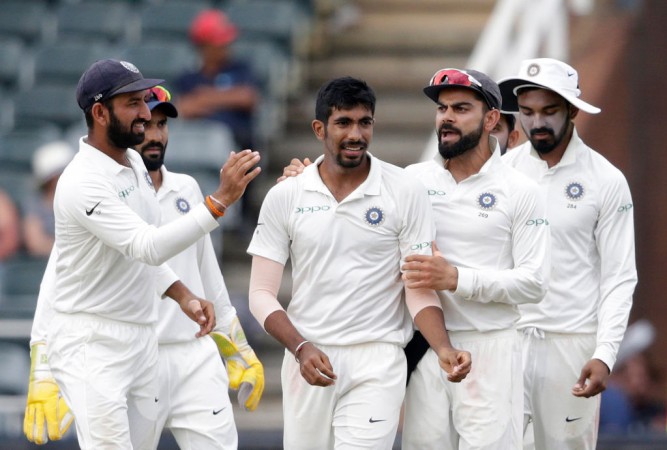 Akram lauded "T20 specialist" Bumrah for making a "good start" to his Test career and said the Gujarat pacer needs can be more lethal if he consistently takes the ball away from batsmen.
Notably, the 24-year-old made a "surprise" Test debut in the first Test of the recently-concluded three-match series against South Africa in Cape Town.
Even as Virat Kohli-led India was chopped and change during the three-match series, Bumrah played all three matches and ended up as the fourth-highest wicket-taker with 14 scalps.
Coach Ravi Shastri revealed that the decision to hand Bumrah, who climbed the ICC rankings ladder swiftly in limited-overs after making his debut in international 2016, his maiden Test cap in South Africa was not taken overnight. The team management had been working on it "close to six months ago".
"He [Bumrah] has had a good start to his Test career after starting off as a T20 specialist. So it's a kind of change in mindset that is slowly happening for him. If people are talking about not having an outswinger, I won't be bothered much," Akram said.
"But if Bumrah can learn how to straighten the ball after pitching coming from wide of the crease, more often than not, it will be his wicket-taking delivery. He just needs to use a bit of wrist for that," he added.