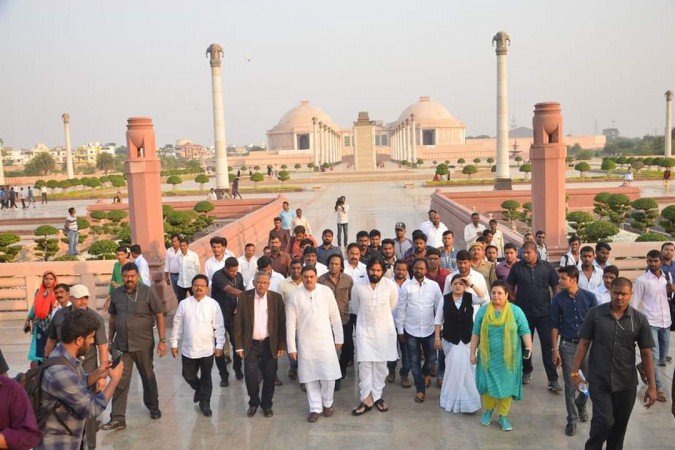 Jana Sena supremo and power star Pawan Kalyan failed to meet Bahujan Samaj Party (BSP) chief Mayawati when he visited Lucknow, Uttar Pradesh, on Wednesday.
Pawan Kalyan, who has taken a plunge into politics, has been busy touring Andhra Pradesh for more than a year to make it big in the upcoming assembly elections. He wants the Jana Sena to emerge as an alternative party to TDP and YSRCP. But the recent surveys show that he would get around two per cent vote share and maximum support will come from the Kapu dominated areas.
The actor-turned-politician is reportedly concerned about it and is mulling to create a strong force in Andhra Pradesh involving Kapus and Dalits. Hence, Pawan Kalyan decided to join BSP, which is a party with a strong Dalit support. He has reportedly offered to help the BSP in the two states giving highest priority to the neglected sections.
Pawan Kalyan visited Lucknow to further strengthen the relationship between both the parties. He was accompanied by former speaker Nadendla Manohar and students from Osmania University. He tried to meet Mayawati, but could not make it as she was not in the city. She asked him to meet her secretary. But he was reportedly upset with the developments.
It is reported that Pawan Kalyan and his team spent the whole day in the city interacting with senior BSP leaders. Besides meeting a few intellectuals working on social issues, they also visited Ambedkar Memorial Park to win Dalit votes. The Jana Sena president not only paid tributes to Dr Ambedkar but also emphasised the need to build accountability in politics.
Later, Pawan Kalyan took to his Twitter account to share some photos of his visit to Ambedkar Memorial Park. He also wrote, "Lack of ethics leads to loss of wealth. A profound truth by 'Sri Jyotiba Phule' engraved on the walls of Lucknow's Social Justice temple. (sic)"
"Lack of ethics leads to loss of wealth." A profound truth by 'Sri Jyotiba Phule' engraved on the walls of Lucknow's Social Justice temple. pic.twitter.com/3tsfzEXNmJ

— Pawan Kalyan (@PawanKalyan) October 25, 2018
Mahathma Phule's quote.. pic.twitter.com/bWvZMQvqv5

— Pawan Kalyan (@PawanKalyan) October 24, 2018
Dr.Baba Saheb Ambedkar's statue in Lucknow,UP. pic.twitter.com/TwGn0gg34M

— Pawan Kalyan (@PawanKalyan) October 24, 2018
Watch Live : #JanaSenaParty Chief @PawanKalyan Visits Dr. Bhimrao Ambedkar Memorial Park #PawanKalyanInLucknow https://t.co/a21LVrcNdt

— JanaSena Party (@JanaSenaParty) October 24, 2018
JanaSena Chief @PawanKalyan visited Dr. B.R.Ambedkar Memorial Park in Lucknow, Uttar Pradesh.

Full Album : https://t.co/DMKzxGuqBN pic.twitter.com/Ak1eB2hL6R

— JanaSena Party (@JanaSenaParty) October 24, 2018
బాబాసాహెబ్ అంబేద్కర్ అందించిన విలువల్ని కాపాడతాం pic.twitter.com/tqHyvZuOkI

— JanaSena Party (@JanaSenaParty) October 24, 2018
- The park is spread over an area of *107 acres.
- Pawan Kalyan is the second prominent personality to cover the entire area on foot. First person is the Governor of Himachal Pradesh, Acharya Dev Vrat.https://t.co/eEV93O3U3w

— JanaSena Party (@JanaSenaParty) October 25, 2018