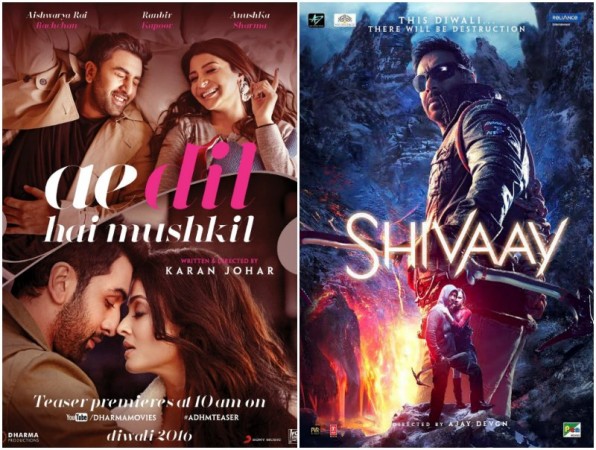 Even though Shivaay boasts of a healthy mix of emotion and action, Ae Dil Hai Mushkil is what seems to be appealing to the audience. The box office numbers are proof of that.
In the opening weekend, ADHM minted Rs 35.60 crore at the domestic box office, whereas Shivaay made Rs 28.56 crore.
Here are a few factors that may have worked for one and not so much for the other:
Star cast
The Karan Johar-directed film features Anushka Sharma, Ranbir Kapoor and Aishwarya Rai Bachchan in the lead. The freshness of Kapoor and Bachchan's pairing and also the kind of roles they play are two primary reasons for the audience's preference for the film. Also, with ADHM, Kapoor and Sharma returned to the big screen after a span of over a year, so there were quite a few takers for them too.
Meanwhile, Shivaay features a string of newcomers — Sayyeshaa Saigal and Erika Kaar — who are yet to establish a solid fan base. Because these ladies have just started out in Bollywood, they do not enjoy loyal supporters. That kind of connect will take a few years, at least.
Genre
Even though Shivaay has an emotional father-daughter story at the centre, the film bets big on action. By using new-age technology and a little bit of help from across continents, the makers have managed to pull off a visually appealing film. But in doing so, they have also limited its audience. Action doesn't appeal to everyone.
Ae Dil Hai Mushkil has a story arc that scores well with the youth and also the family audience. The story is young and fresh, but also has a mature soul.
Controversy
Ae Dil Hai Mushkil came under fire after a ban was imposed on Pakistan-based artistes working in India. Fawad Khan, who plays Alizeh's (Sharma) boyfriend in ADHM, was apparently asked to keep mum on the issue. Even though the makers were worried if their film would be allowed to be screened without a hassle, the tension around its release helped it stay in news.
The release of Shivaay wasn't free of controversies either. A few days after the trailers of both Shivaay and ADHM were released, an audio clip surfaced, which indicated that Johar had bribed Kamaal R Khan to trash Devgn's film. However, the news fizzled out after a while.
The brand
Johar is six films old and has been making movies since 1998. Through the years, he has managed to create his own brand of cinema. Although his projects mostly provide popcorn entertainment, the filmmaker has shown considerable growth and his stories come across more mature and well-researched now.
Before Shivaay, Devgn had directed U Me Aur Hum, which sank without a trace. So the actor isn't coming with a baggage, which should have ideally made his job easier, except it didn't.
Promotional material
Even though Shivaay has a few soulful numbers such as Darkhast and Tere Naal Ishqa, the Ae Dil Hai Mushkil album was received better. Composed by Pritam, Channa Mereya, Ae Dil Hai Mushkil, Bulleya, The Breakup Song, and Cutie Pie gained chartbuster status in no time.