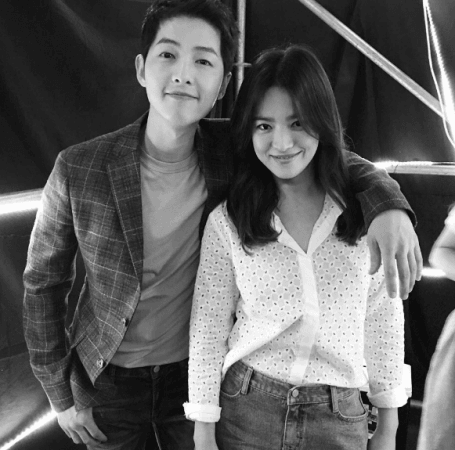 Song Joong Ki is currently busy gearing up for the premiere of his latest film Battleship Island, and during an interview to promote the movie, he opened up about his relationship with Song Hye Kyo.
Joong Ki and Hye Kyo are set to marry in October, and they announced their engagement earlier this month. Joong Ki initially wanted to announce their engagement after Battleship Island hit theaters, but things did not go that way as he wanted to put to rest rumours about his romance with his Descendants of the Sun co-star.
Also read: Here's why it may not be true love for Jeremy Meeks and Chloe Green
"I wanted to announce it after the premiere of The Battleship Island, but things don't work out the way you want them to," he said, reported Soompi.
"After thinking about it for a while, I told Song Hye Kyo that we should announce it. I feel apologetic about the spotlight being on me ahead of the [movie's] premiere, but marriage is an important matter. There were many groundless rumors about Song Hye Kyo and me, and we were upset about that. That's why we decided that we should reveal it. That day, both of our hearts were beating quickly."
On being asked why he wanted to get married now, when he is at the peak of his popularity, Joong Ki revealed that he did not want to let go of a wonderful person such as Hye Kyo.
"I definitely have to get married at some point, and I just think some things are more important than popularity," he said. "The biggest reason is because it's Song Hye Kyo. Since it's Song Hye Kyo, I figured it'd be great to spend the rest of my life with her."