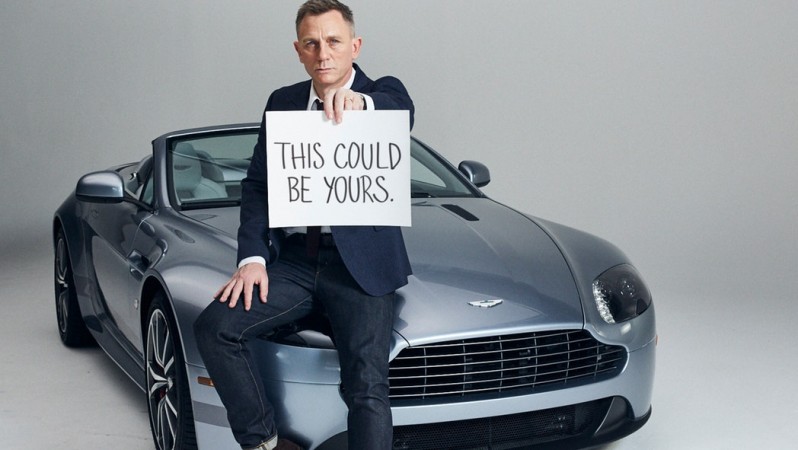 Have you ever dreamt of having a personal James Bond Aston Martin numbered 007 in your garage? Then here's your chance to turn your dream into a reality as Hollywood actor Daniel Craig, who is best known for his role of the charismatic secret agent James Bond in the film series, is selling his personal Aston Martin numbered 007 at a Christie's auction in April this year.
Yes, you heard it right. You can now own this exotic car by bidding for it.
"The bespoke, midnight-blue 2014 Centenary Edition Vanquish - numbered 007 - will be offered on 20 April in New York. Sale proceeds will benefit The Opportunity Network, which helps young people with career development," the auction house said in a statement, reported Efe.
The automobile, worth an estimated $400,000-600,000, is being sold under Christie's The Exceptional Sale, described by the auction house as "a highly selective, tightly curated auction of decorative arts masterpieces and significant cultural icons."
"This Aston Martin Vanquish is a tour de force of automobile engineering and a distinct pleasure to drive," Craig said.
"While I will miss it, I am keen to further the very important work of The Opportunity Network with its sale," he added.
Craig, 49, worked with Aston Martin's design chief to customize his personal vehicle.
The actor had made his debut as Agent 007 in Casino Royale (2006), and went on to play the character created by Ian Fleming in Quantum of Solace (2008), Skyfall (2012) and Spectre (2015).
Last August, Craig ended months of speculation over who would star as James Bond in the next film of the series, confirming he would return to the role in the as-yet-untitled installment.
(With IANS Inputs)