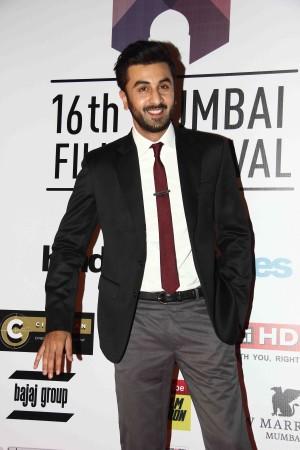 That Ranbir Kapoor is a charmer is no big secret and the fact that he devised unique plans to woo his college crushes is also a no-brainer. But what's interesting is that the Kapoor scion resorted to poetry (the basic ones) to draw ladies to him on Valentine's Day.
When asked if he ever wrote poetry in college, he said he went with the 'basic' stuff. "No I used to stick to 'Roses are red, violets are blue... blah blah blah, I love you'," Hindustan Times quoted him as saying.
The Kapoor scion, who his gearing up for his big release "Bombay Velvet", recently said he was beginning to fathom poetry.
"Poetry is something that you have to understand. It is not easy. You can read poetry, but there are so many deeper meanings attached to it. I'm working with Imtiaz in 'Tamasha', which has a lot to do with storytelling and poetry. So I hope to understand it more," he told IANS.
Meanwhile, while the actor's "Roy" has failed to impress most viewers, and now there's a lot of hope pinned to Anurag Kashyap's "Bombay Velvet".
Set in ancient Bombay, the neo-noir thriller is an adaptation of Gyan Prakash's "Mumbai Fables" and follows the story of Johnny Balraj (Ranbir), Rosie (Anushka Sharma) and Kaizad Khambatta (Karan Johar).
The actor's other film "Jagga Jasoos" with alleged girlfriend Katrina Kaif has also made waves for its incessant rescheduling of release dates. The detective drama will see the actor in his teens, for which he has been given a unique look.
Slated for a 2016 release is Imtiaz Ali's "Tamasha" with Ranbir's ex-girlfriend Deepika Padukone. It was reported a few days ago that the duo was spotted with hot cups of coffee in the national capital in between the shoots.